More and more jobs require OSINT skills every year since information is the main weapon and power in the modern world. Consequently, professionals who possess these skills are also becoming more and more in demand. Of course, work experience often prevails over documents that can confirm skills, but they are still necessary.
What for? Let's figure it out.
Why do you need OSINT certification?
Although companies often are ready to hire people with no special education and even train them in the necessary skills, a certificate is your shortcut to a high-paying job.
Courses with certification are very different from courses that do not provide one. For example, you can take a free course and listen to a dozen lectures, but this will not give you enough practical skills.
Courses for obtaining certificates include tens or hundreds of hours of theoretical and practical training. Even if you did not take such courses but registered for the certification exam, you must have high practical skills and theoretical knowledge to pass it.
Hence, the employer understands that the candidate will be able to start working and perform tasks with high quality immediately if they have a certificate. In this case, the candidate can expect a higher salary from the first days of work as the company does not spend time and money on their training.
How can you get OSINT certification?
There are only two ways to get certified: pass an exam and take courses that provide certification.
This option is suitable for those people who have been working in the field of OSINT for a long time but need to get a certificate. The reasons for this may be as follows:
Get a job in government organizations or certain firms
Get a promotion or pay raise
Get priority access to government-provided data
In this case, a person only needs to register and pass the exam. One option is to obtain GIAC Open Source Intelligence (GOSI) certification.
This certification is internationally recognized and one of the most common among OSINT specialists. In other words, it can be helpful for a variety of professions, including:
Cyber Incident Responders
Digital Forensics (DFIR) analysts
Penetration Testers
Social Engineers
Law Enforcement
Intelligence Personnel
Recruiters
Private Investigators
Insurance Investigators
Human Resources Personnel
Researchers
The exam consists of 75 questions covering all major areas of OSINT, including methodology, data collection, analysis, reporting, and the dark web. You can pass it remotely or in certification centers, but proctoring is mandatory in both cases.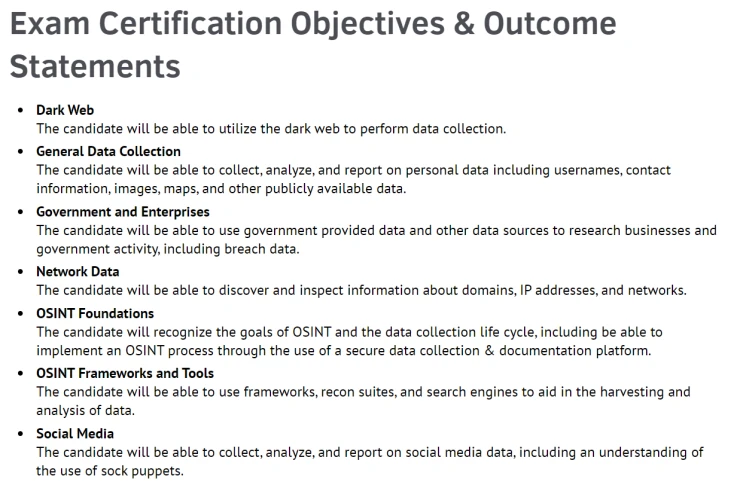 ‍
The cost of obtaining a certificate, including two practice tests, is $949.
Take certification courses
If you are not yet confident enough in the level of your knowledge or are just starting to study OSINT, your option is to take courses aimed at obtaining a certificate. There are many options that differ in price and approach to learning.
This SANS Institute course will prepare you thoroughly and consistently for your GOSI certification.
Its authors prepared lectures, quizzes, and 25 real-world exercises for students to master all the necessary tools. In addition, you will learn how to build OSINT processes and use charts to visualize the received data. In this way, the course will prepare you both for the exam and work.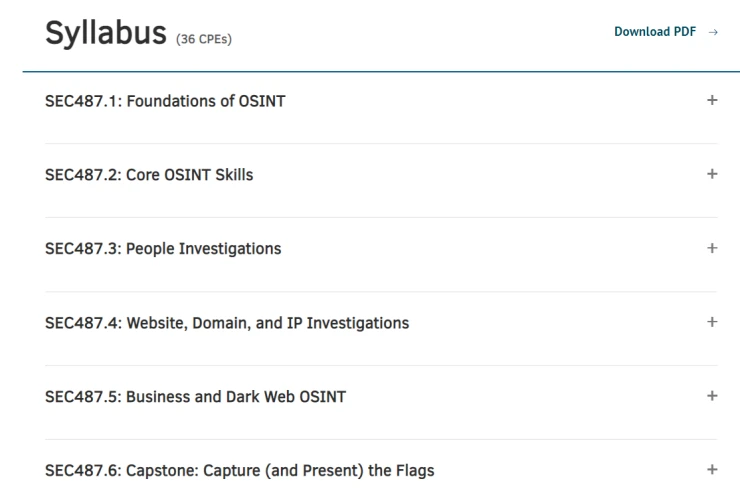 SANS Institute offers three different learning formats to meet the needs of any student:
On-demand course. Students receive four months of access to course materials, practice assignments, and teacher support. So, they can take lessons at a convenient time for them.
Live online course. Students participate in online sessions where they listen to lectures, complete assignments, and discuss issues with other participants. So, learning is more intense, and interaction helps to solve all misunderstandings.
In-person course. Students attend an offline event where they study OSINT practices and tools for six days. Closer integration and interaction with teachers and other students help better master knowledge and skills, including teamwork.
Course prices vary by format and start at about $7,000. GOSI Certification and OnDemand Bundle are billed separately.
C|OSINT is another course with certification but at a much lower price. It was created by the McAfee Institute, whose name is more familiar to people from the antivirus program. However, this certification is internationally recognized and suitable for most companies.
The course includes 55 hours of training covering 13 core competencies, from basic OSINT concepts to OSINT browser configuration and virtual machine setup. All modules have practical tasks and quizzes to test knowledge.
The course fee includes
Training program
Certification prep review quizzes
Certification digital study guide
Exam license
Live instructor support
Digital graduation (certificates) package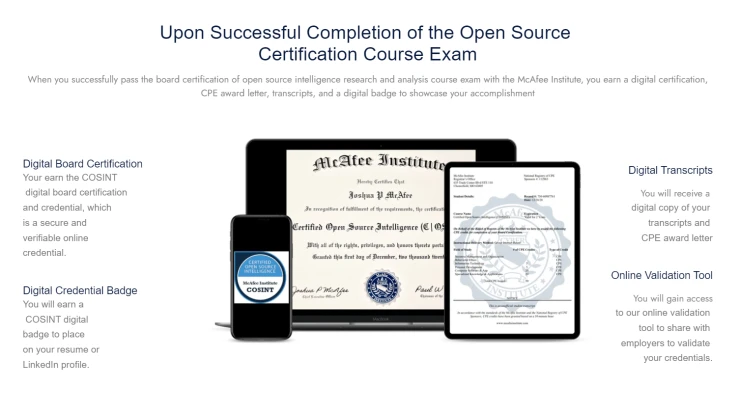 In other words, you will receive everything you need to get certified by purchasing this course.
Fees: At the time of writing, the Institute offers a discounted price, which is $1547, instead of the full cost ($2997).
‍The MCSI Open-Source Intelligence (MOIS) certification
The course for obtaining MCSI certifications differs little from the previous ones, except for its price and some modules. This type of certification is also recognized by the industry and will help you get a job as an OSINT investigator, cyber threat analyst, incident responder, or penetration intelligence tester.
This course consists of online lectures, practical assignments, and interactions with instructors that cover the basic methods and tools of OSINT. However, students also learn to write tools in Python to interact with APIs and automate the OSINT data collection process.
Moreover, the course authors focus not only on the technical understanding of the tools but also on students' writing and thinking skills, which are essential for OSINT professionals.
Another difference in the MCSI course is that students receive certificates for each new level of study. In other words, the more a student takes lessons and gains knowledge, the higher their certificate status becomes. Since the course includes more than 600 hours of training, this approach allows participants to improve their level at work without waiting for the end of the training.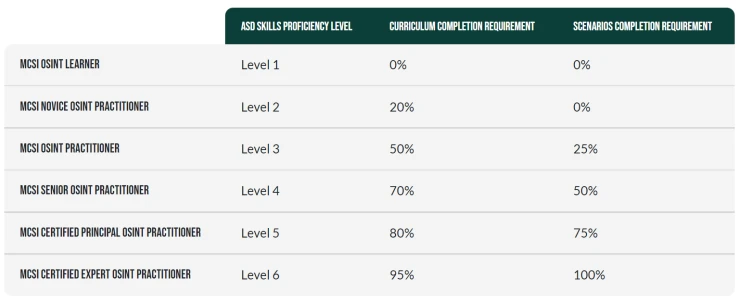 The cost of courses and certification is only US$450. Alternatively, you can request a free trial.
To Sum Up
Certification of an OSINT specialist takes time and effort, whether on training or practical experience. Moreover, the opportunity to take the exam costs a lot of money, so most people intend to pass it on the first try. Nevertheless, there are plenty of certification options and career benefits significant enough to make an effort.
***
📌 For everyone who really wants to learn OSINT, we recommend OSINT training courses from Molfar:
▪️ Basic: for personal study and receiving a knowledge base + all the necessary tools for work.
▪️ Advanced: for scaling processes, gathering a team and learning HUMINT.