OSINT (open-source intelligence) uses many tools, approaches, and techniques to collect information from various sources. So, it is easy for a beginner to get confused. Even those familiar with OSINT must constantly learn and update the most effective investigative tools. Fortunately, the Internet offers dozens of OSINT training courses to help with this goal.
Structure of training courses
Like any online learning program, an OSINT course can consist of various elements: video lectures, textbooks, practical tasks, tutor support, and even offline meetings. The more such features are included in the course, the more effective but expensive it is. To show the difference, we have selected a few examples for you.
Free OSINT training courses
OSINT from the Penn State World Campus Tech Club. This course is basically a collection of instructional videos that teach the fundamental approaches and tools of OSINT. It includes such modules as:
OSINT art of finding information on anyone
Geospatial intelligence
The OSINT space is growing: are we ready?
How to find metadata in files
Harvesting and using OSINT
A glance at malware OSINT
You can find more similar courses, which consist primarily of videos, at Class Central or DFIR Diva.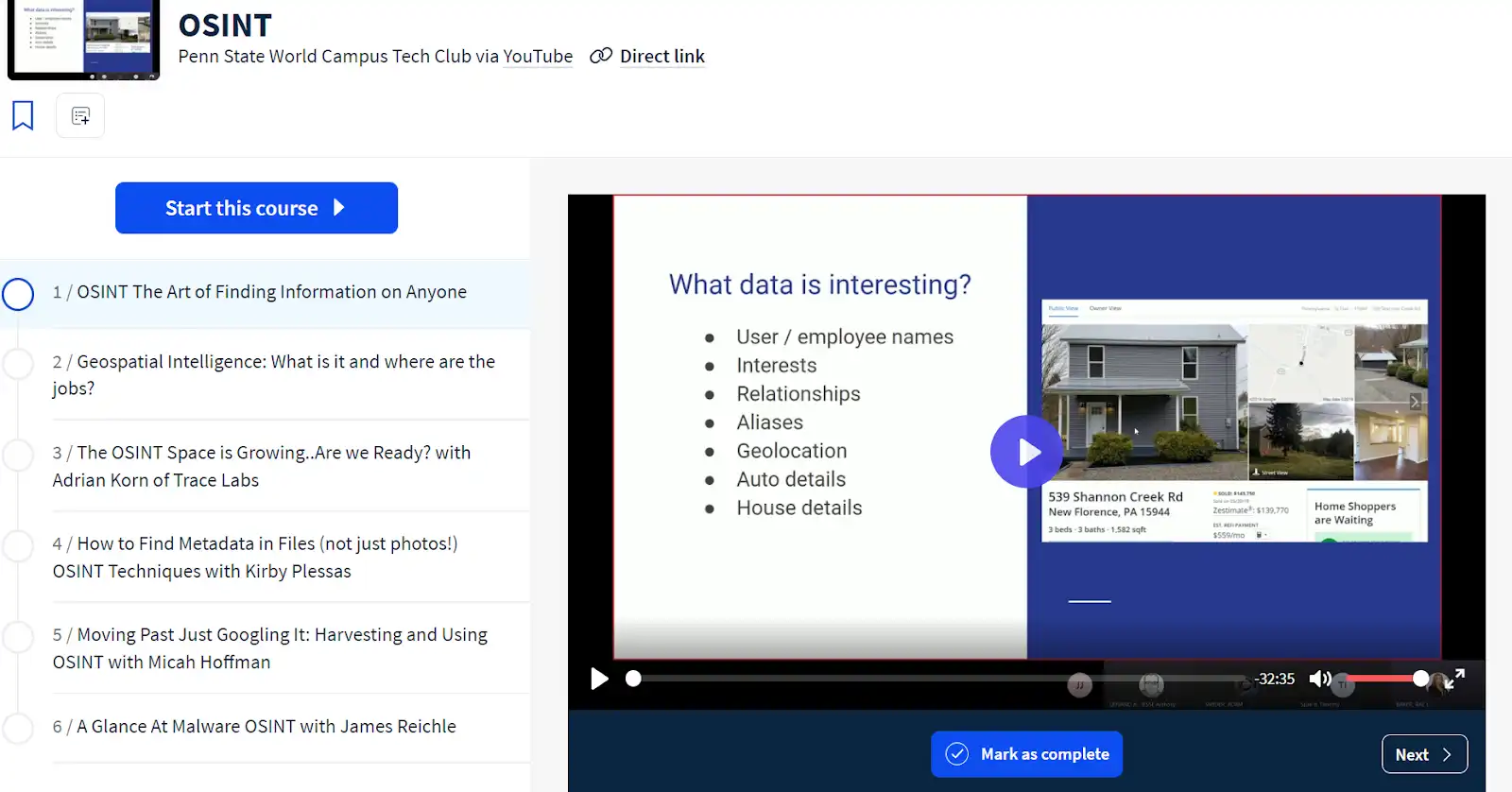 eLearning course on open-source intelligence (OSINT) from Basel LEARN platform. This course is more practical and allows you to try your hand as an investigator during training. Its creators promise that you will investigate the case of illegal fishing, learning all the tools and techniques necessary for this. As a result, you will also write a case report commonly used in most investigative organizations.
Paid training courses
Online OSINT Video Training from Intel Techniques. This course also consists of a series of video lectures and assignments, but with one key difference - students receive feedback from the instructor. In addition, the subscription is issued for a year, during which the student can complete tasks. This subscription also includes a 600+ page PDF training manual, participation in group chat, updated OSINT search tools, and all resources used throughout the training.
The cost of the course is $599 per year.
Open Source Intelligence Training from Justin Seitz. This course covers all possible OSINT tools and techniques. Students learn the Twitter API, web scraping, and how to their own OSINT search engine.
Moreover, the price includes a copy of Wing Professional, a Python development environment, two months of Digital Ocean droplet hosting, and custom-developed challenges.
However, the price is pretty high for this whole set - it costs $ 1,000.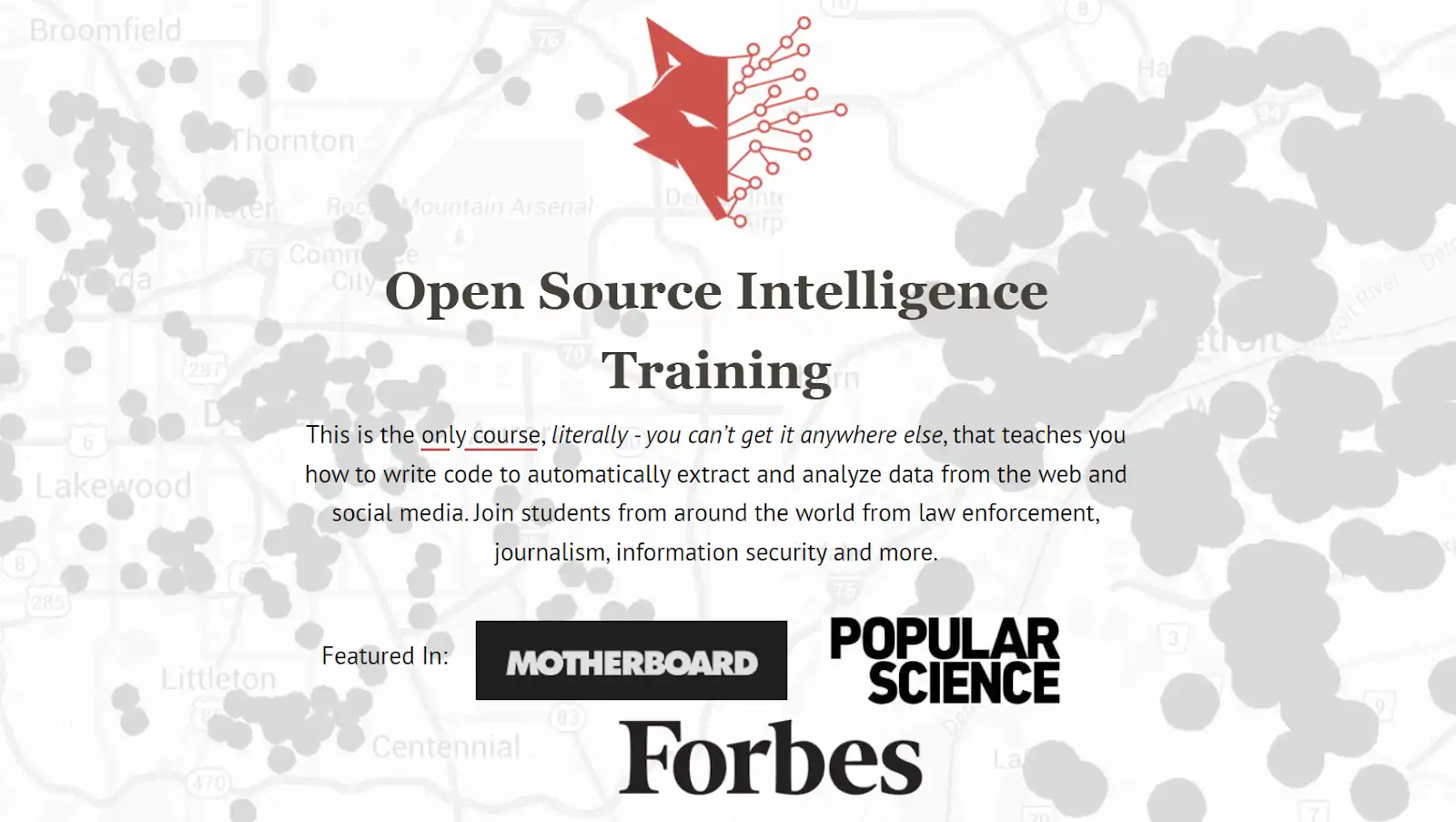 OSINT: Open-Source Intelligence from Udemy. Compared to the previous two, this course seems almost free - only $ 50. In addition, the platform often offers discounts, and access can be purchased for as little as $14.
This option has fewer useful elements; for example, its creator does not offer support. Nevertheless, everything you need for self-study is perfectly chosen:
8 hours of video
2 articles
8 resources to download
1 practice test
Hence, this course is perfect for those who want to learn the basics of OSINT but do not want to pay a lot of money for it.
Several training tools
Learning is not only listening to lectures but also practicing your skills. If you do not yet have specific tasks for the investigation, you can use training tools or games for this purpose.
Verif!cation Quiz Bot. The name of the program speaks for itself. You can join a chatbot that sends small tasks every day to check data, images, and so on. This bot is a fairly simple way to learn new things or keep the knowledge fresh.
Geoguessr. A site where participants guess the location of objects in a photo using visual clues. Solving some tasks requires an understanding of various tools and attention to detail. So this website will be useful for those who are just learning the skill of location-tracking.
A Google a day. Another game where you need the ability to search for locations and apply logic. Its main page contains an example of a task that you need to solve: say the name of the bird, knowing the approximate coordinates of its location.
In fact, you need to know how to google in general as well as tools to track locations, since tasks are different. In this way, you can learn different advanced search tricks while having fun.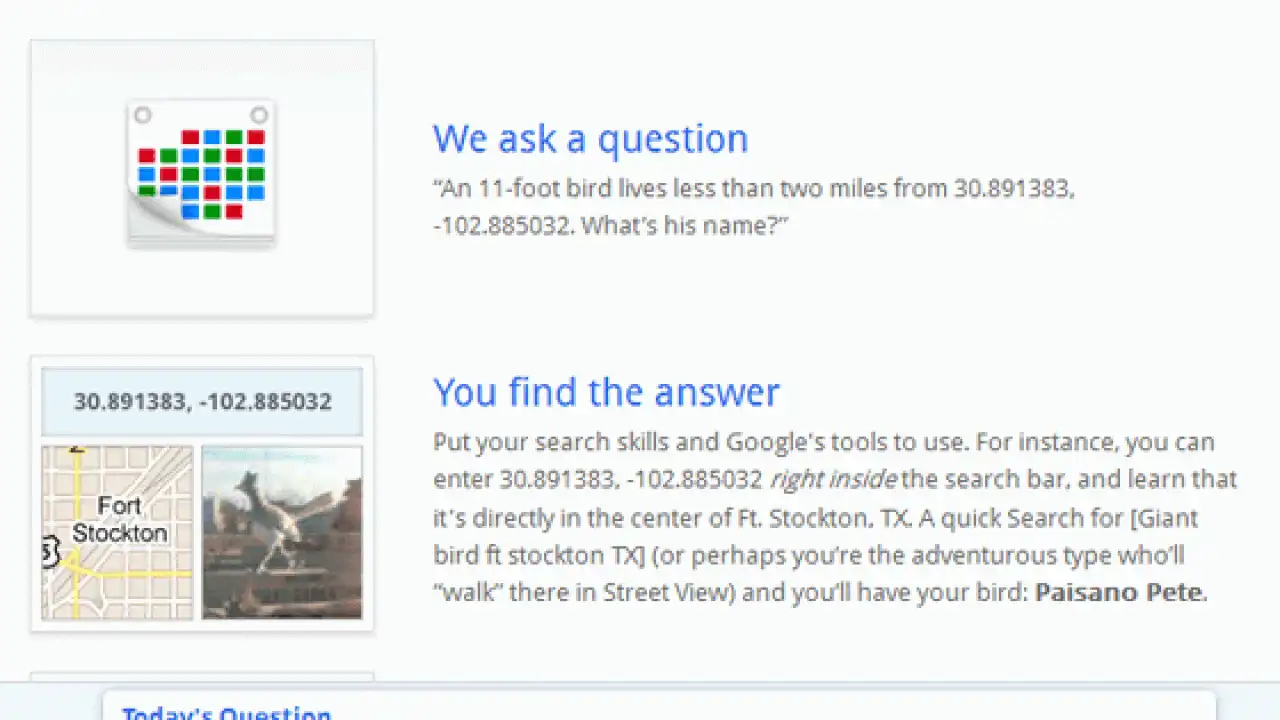 Conclusion
As you can see, you can learn OSINT in many ways and at different costs. You can watch a series of educational videos and try out what you have learned on online simulators and games. Or you can buy a course from an expert with feedback and support to understand all the nuances of OSINT. You can even find offline training if you think it will be more effective for you.
Anyway, there are many similar courses: just choose one by reading the reviews and listening to the recommendations of your friends. Or use something from our list. In any case, practice and diligence are the best teachers for mastering OSINT investigation.
***
📌 For everyone who really wants to learn OSINT, we recommend OSINT training courses from Molfar:
▪️ Basic: for personal study and receiving a knowledge base + all the necessary tools for work.
▪️ Advanced: for scaling processes, gathering a team and learning HUMINT.