Amnesty International acted like real Putin agents – during the terrible, bloody war in Ukraine, they published a report in which they blamed... the Armed Forces! That's right, they accused the Armed Forces of Ukraine of allegedly endangering the civilian population of Ukraine. The chicken endangers the eggs.
The short conclusion of this accusation is simple: Amnesty is bought. And the Armed Forces of Ukraine defend the civilian population of Ukraine from occupation, enslavement, torture and murder by the fascist terrorist groups of Russia. However, we decided to delve deeper into this issue and find evidence that Amnesty International is a completely incompetent organization, the existence of which is so questionable that if they were to close forever, it would be a bigger "fight for people's rights" than all their scandalous reports.
By the way, the head of Amnesty International Ukraine resigned from her position after the publication of this report.
Who is Amnesty International? Why are they needed?
Founded in 1961 in Great Britain, a non-governmental organization engaged in research in the areas of violations of the rights of physical and psychological integrity, freedom of conscience and expression, freedom from discrimination in the context of its work on the promotion of human rights.
The site states that they help fight for human rights, change repressive laws and bring "torturers" to justice. To solve human rights problems, research violations of these rights, interact with governments and other public structures. After research, use their analysis to influence governments, companies and decision makers. They also organize campaigns, actions, protests, write letters and petitions to draw attention to this or that problem through the media. They indicate the work of Amnesty's representative offices in ~70 countries. The main offices (1) are located in Great Britain (HQ), Mexico, Kenya, Thailand, South Africa, Senegal, Lebanon, Tunisia, Israel.
The website states that it is funded by donations. The reports for 2014-2021 state that 93-96% of the funding is not earmarked, so they have the right to use it where they see fit.
The amount of funds raised: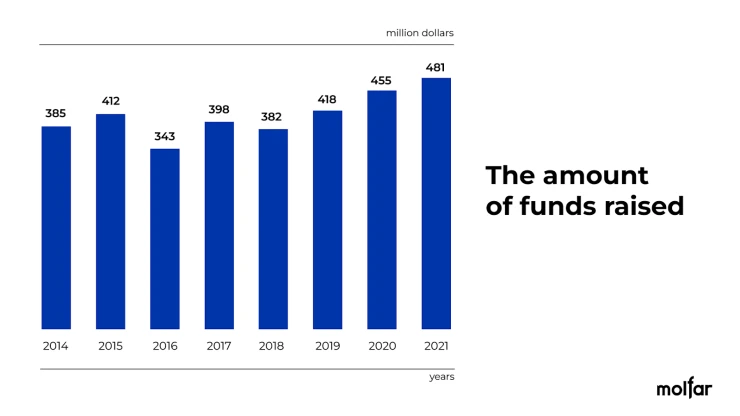 The problems at Amnesty International start with the words about funding. According to the site, they do not accept research funding from governments or political parties and only accept support from businesses that have passed a thorough vetting process. However, in 2011 Amnesty received a $1.3m grant from the UK Department for International Development.
👉 Next, we will save you a long description of the details of the investigation, the full version of which you can get at this link. Let's consider all problems of Amnesty briefly.
Amnesty International is an incompetent organization
Irrational spending of funds:
2011, UK, $1.3m – Top management expenses 2011 salary. Payment of triple salary to former top officials before dismissal (1, 2). In 2010, before the dismissal of the then Secretary General of Amnesty Irene Khan and her deputy Kate Gilmore, a plan was agreed to pay them severance pay in the amount of three times their salary.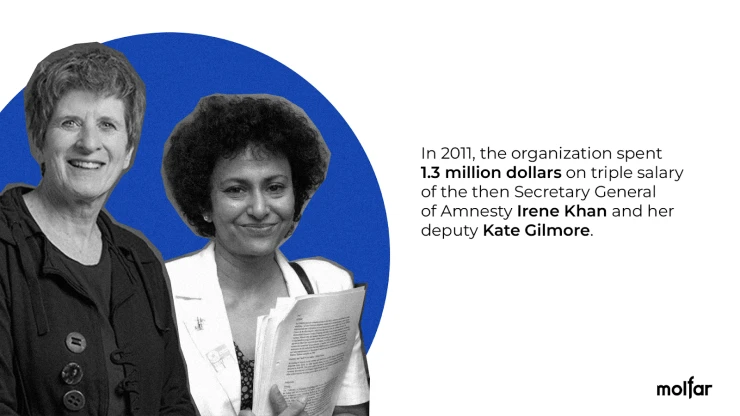 2019, Global, $22m – Amnesty said they expect a $22m budget hole by the end of 2020, resulting in 70 lower-level job cuts.
2019, USA, $51m – High administrative costs. Charity Navigator indicates that 77.3% of the proceeds to Amnesty's US branch cover expenses for the company's programs.
2020, FR, $1.08m – Suicide Compensation. In September 2020, The Times reported that Amnesty International had paid $1.08m in compensation for the workplace suicide of French office worker Gaetan Mootoo and had asked his family to keep the deal secret.
Negative:
Relations with the Russian Federation:
The organization began to work in Moscow in 2006. In 2015 Amnesty office was closed because of $6.2k in rental payment debt. In 2020 Amnesty Russia was sued for employee fired illegally. The website administrator was fired because he tried to discuss 'extremist and illegal' posts on the site with management. Court ruling favored the employee and the organization had to pay him $30k. In March 2022 during russian attack on Ukraine, Roskomnadsor blocked Amnesty web-site in russian. In April 2022 Russian Ministry of Justice declared a shutdown for Amnesty Russia 'due to the noncompliance with the russian law".
Depo.ua in August 2022 wrote that in 2021 Amnesty refused to define Alexey Navalny as a prisoner of conscience and changed its stance after international outcry and pressure. In February 2021 BBC wrote that on 17th of February 2021 Amnesty called Navalny a prisoner of conscience and on 23th of February it stopped to call him that. Mediazona public said that this decision was backed by people from RT (Russia Today) in different countries. On 19 of January 2021 Katya Kazbek, RT columnist, tweeted about Navalny's nationalistic messages and views and that's why Amnesty decided not to grant him a status of prisoner of conscience.
Alexander Artemyev – Amnesty media manager, working with Eastern Europe and Central Asia region, lives and works in Moscow. Before joining Amnesty worked at РБК, Lenta.Ru, Gazeta.Ru and ITAR-TASS. Probably co-authored the Amnesty report about Ukrainian Army located in residential areas. His commentary on the report reads as follows: While we fully stand by our findings, we regret the pain caused. Amnesty International's priority in this and in any conflict is ensuring that civilians are protected. Indeed, this was our sole objective when releasing this latest piece of research." He got 350 000 rubles from Amnesty in 2020. Inside information on him shows that in Telegram he follows group "zа (v)побѣду" (a fascist group for Russian citizens who support the war in Ukraine).
The problems of Amnesty International are stated above.
Of course, far from all. Scandalous reports, mysterious suicides of employees with millions in compensation, ties to terrorist groups, racism among employees by senior management, money laundering through separatist government organizations – more information at this link.
✉️ To contact the team and receive a comment, fill out the form below, or send your request to: business@molfar.com