According to the rating of Triple-A, Ukraine takes the first position by the number of cryptocurrency owners, and, according to Global Crypto Adoption Index, Ukraine takes the fourth position. However, Ukrainian crypto farmers are more frequently mentioned in press releases of law-enforcement agencies than in business news. It's for no good reason.

Molfar and NV Business learned about major players who have been importing crypto mining equipment since 2017 and found out what it had been used for. Among the TOP importers, according to Molfar business intelligence agency, there are the structures associated with Kolomoysky, Verevsky and ex-Head of State Service of Ukraine for Regulatory Policy and Entrepreneurship Development.
‍
Mining and ferroalloys
‍Context. What was counted and which way?The list compiled by Molfar's experts included Ukrainian companies and individuals which, since 2017 (since the upsurge of the activities of crypto mining industry worldwide), according to 52wmb service (it carries out the analysis of customs bonds), have been purchasing the specialized equipment for cryptocurrency mining — Asic worth from $15 thousand.‍

‍Artem Starosiek, CEO of Molfar, clarified that the amount of $15 thousand is not random:‍CEO of business intelligence agency explains, "According to our observations, the purchases "for themselves" are limited to $10thousand; therefore, when it comes to the purchases for the amount of $15 thousand and above, we can reasonably assert that it is about the equipment purchased to gain profit."‍

‍It is worth mentioning that we studied specifically the procurement of information processing units (sometimes with minimum required applications), without taking into account the cost of other auxiliary equipment and structures.

‍Zaporozhye Ferroalloy Plant became an absolute leader in the importation of the specialized equipment for crypto mining into Ukraine. According to the data collected by Molfar, in 2021, the enterprise imported the information processing units amounting to 18.3 million US Dollars into the country. Most of the equipment (amounting to over 17.9 million) was supplied by Zaporozhye Ferroalloy Plant, JSC from Georgian Manganese (Georgia) at the end of April 2021.
‍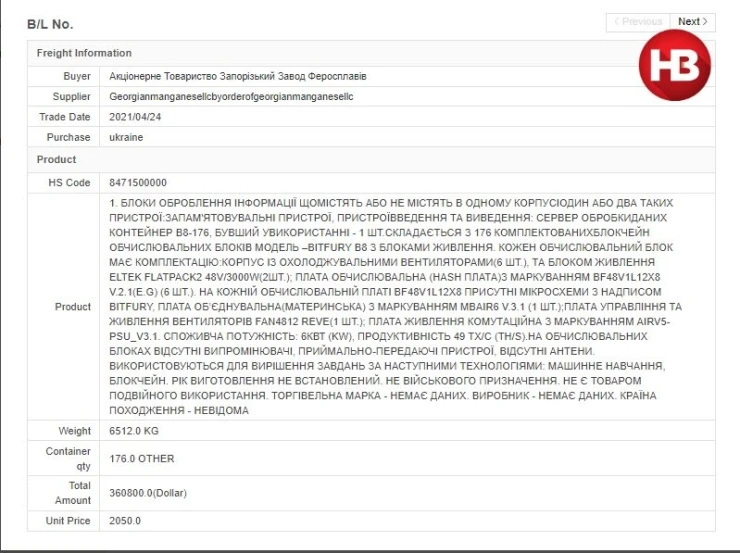 ‍
According to the investigation carried out by Schemes, Georgian Manganese is within the orbit of the oligarch Igor Kolomoysky's influence. As it became known from London litigation between state-owned Privatbank and its former owners, still in 2017, Kolomoysky invested $50 million in mining farm through Georgian company, and he, jointly with his partners, expected to mine 50 thousand bitcoins. According to Schemes' investigation, in 2021, Zaporozhye Ferroalloy Plant totally imported the equipment for mining and auxiliary structures for it amounting to about 750 million hryvnias from Georgia and China.

Schemes also established that, in 2020, Zaporozhye Ferroalloy Plant, the shares of which are owned through a number of offshore firms by a number of oligarchs under Kolomoysky's and Boholubov's sphere of influence, bought a substantial amount of cheap electricity, which could be used for mining. Pavel Kravchenko, Chairman of the Board of Zaporozhye Ferroalloy Plant, JSC confirmed to the journalists that, at least, crypto farm "had been set up" in the plant.
Mining on the fields
Agro Logistics Tyvrov, LLC took the second position with purchases totaling $1.54 million. The enterprise registered in Kropyvnytskyi, within the period from November 2017 till January 2019, made 10 purchases of the following equipment: Bitfury b8, Asic bitmain antminer s9j 14 5th s, power supply units, etc.
‍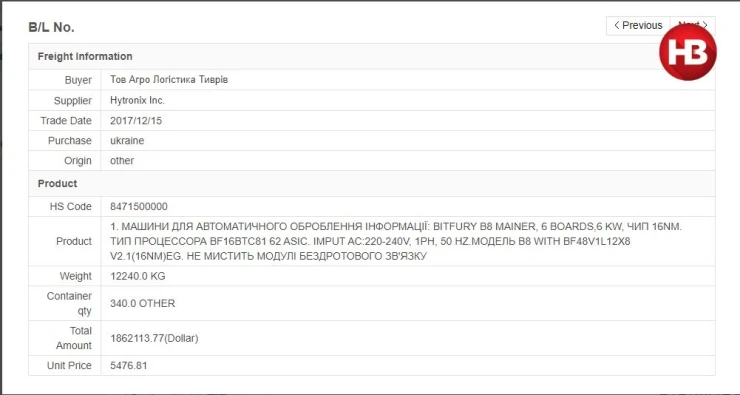 ‍
According to the data collected by YouControl analytical system, Agro Logistics Tyvrov is a member of KERNEL group — the leading producer and exporter of sunflower oil, supplier of agricultural products from the Black Sea Basin region to global markets. According to YouControl, the ultimate beneficiary of Kropyvnytskyi firm is Andriy Verevskyi, Chairman of the Board of KERNEL. According to NV and Dragon Capital, two brothers, Andriy Verevskyi and Ruslan Verevskyi, ranked 15th among TOP 100 Wealthiest People of Ukraine. The fortune of this tandem was estimated at $514 million.

Oksana Koval, Head of Communications, PR and GR Department of Kernel, commented to NV Business why the company needed the equipment for mining. She clarified that mining was not their "corporate subject" and their department was ready to comment on everything related to "agribusiness or export, innovations or digitalization".
Officials, construction materials and fruits traders
In August and October 2019, Data Processing Technology from Kyiv purchased a total of 465 Asic-miners Innosilicon T3+57T amounting to $1.15 million. Data Processing Technology, LLC belongs to Oleg Sheiko. Earlier, according to YouControl data, Oleg Sheiko worked as public officer, and, for some time, he has even headed the predecessor of State Regulatory Service - State Service of Ukraine for Regulatory Policy and Entrepreneurship Development.
‍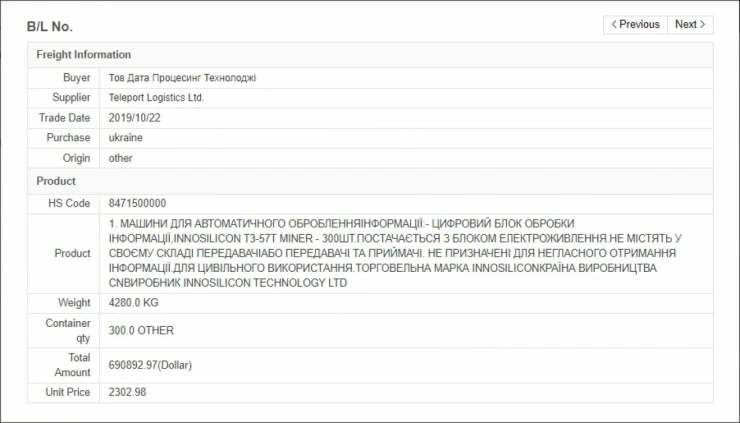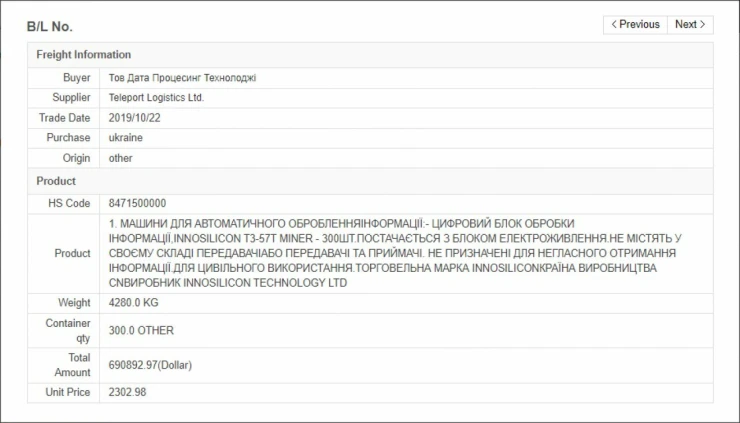 ‍
Master Import, LLC, belonging to Anton Kluiev and Yuriy Tkachuk, purchased less equipment for mining — amounting to $976.8 thousand — than ex-official's company. During the period of 2017−2019, the company with primary economic activity according to the Classifier of economic activities (KVED) "Wholesale trade services on a fee or contract basis of timber and building materials» purchased Bitmain Antminer s9, Bitmain APW3 power supply units, Inno3D MC3865 crypto mining machines, Intel Celeron 3865U. In 2021, Master Import purchased Bitmain Antminer Z15 without a video card three times.
‍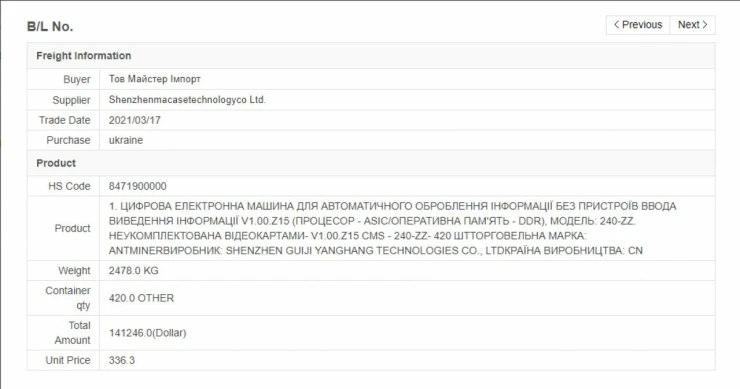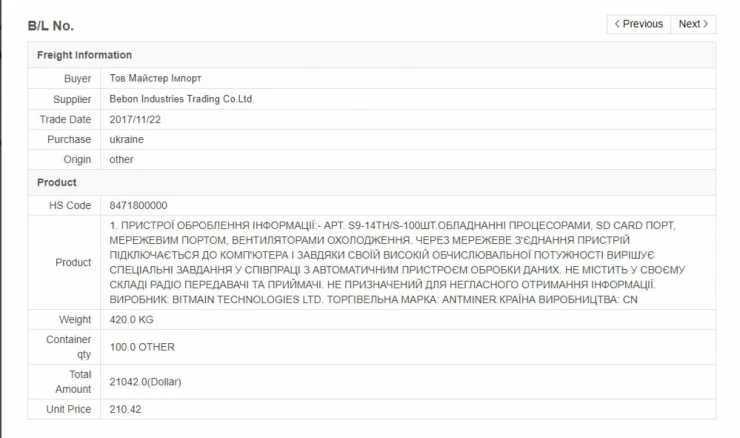 ‍
Individual Entrepreneur from Petropavlivska Borshchahivka near Kyiv — El Abed Haytham Mohamed — in 2021, 6 times purchased Bitmain Antminer S19 Pro amounting to $533 thousand abroad. The primary economic activity of this Individual Entrepreneur according to the Classifier of economic activities (KVED) — "Wholesale trade services of fruit and vegetables".
‍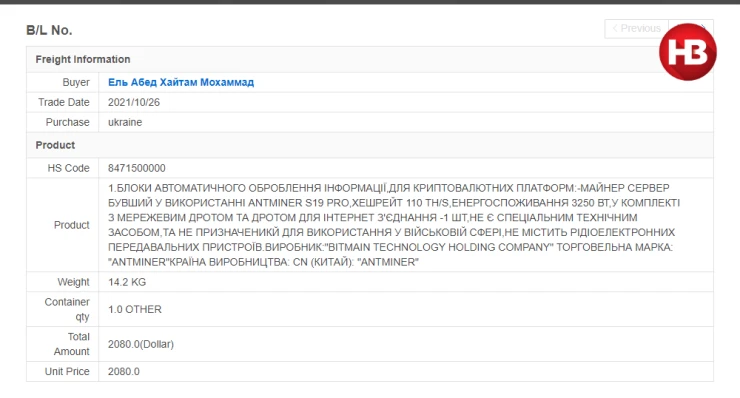 ‍
Those who has video cards or Potential miners
Separately worth noting the purchases of the equipment which potentially can be used for cryptocurrency mining, but it also has another purpose.
‍Context. What was counted and which way? This list includes the companies and individual entrepreneurs which, since 2017, i.e., since the beginning of the increased popularity ofcryptocurrency mining in the world, have imported to the country the equipment which potentially can be used for cryptocurrency mining. The list includes only the companies which, since 2017, have carried out purchases amounting to over $0.5 million.
‍Thus, the Individual Entrepreneur Yaroslav Yaroshevskyi from Zhovkva, Lviv Region, in the period from 2020 till 2021, imported Nvidia video cards, hard disks, motherboards and microprocessors amounting to about $500 thousand. Such a set of equipment can be used to create crypto farms.
‍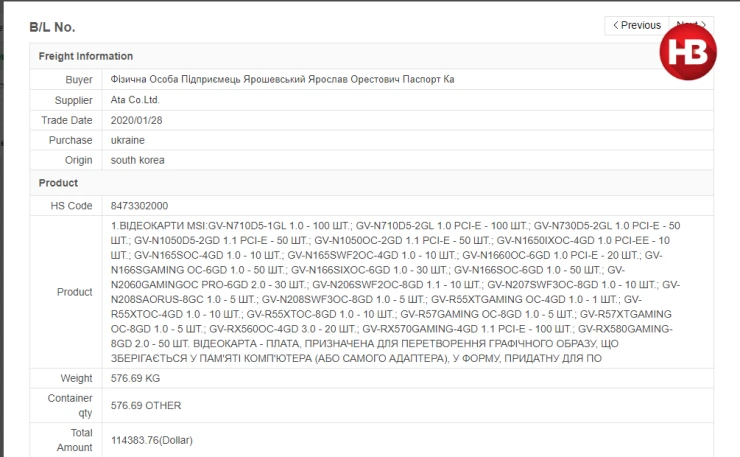 ‍
In the period from 2017 till 2018, Dominens, LLC from Mukachevo purchased Geforce GTX video cards and Intel Pentium processors, which could be used to create crypto farms. The purchases, carried out in the period between 2017−2018, costed the company, which had been registered in Kharkiv until 2018, about 650 thousand US Dollars.
‍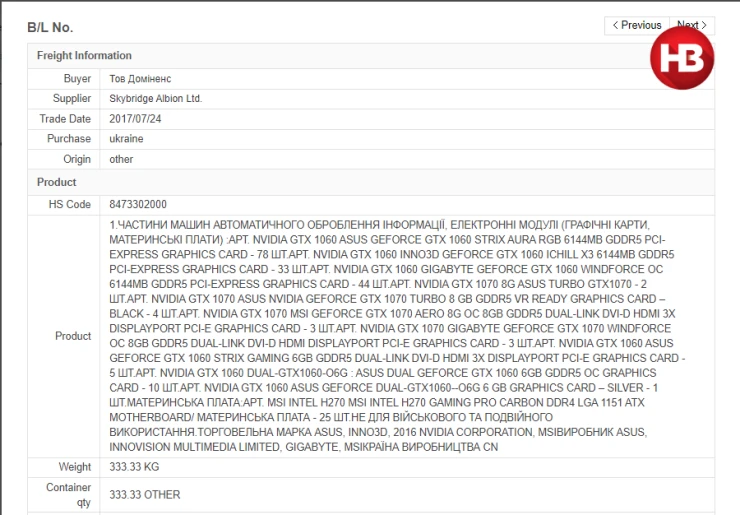 ‍
Leader-Contact, LLC from Mariupol has spent much more than its predecessors — 3.3 million US Dollars. The company, founded in March 2020, with the primary type of economic activity "Wholesale trade services of chemical products", imported Geforce GTX video cards, popular among miners, into Ukraine minimum nine times.
‍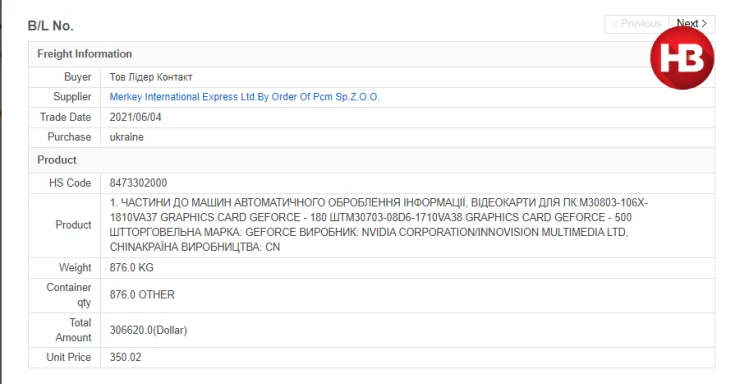 ‍
The foreign enterprise Login became a leader by a small margin in the improvised ranking of potential purchasers of mining equipment — about $3,4 million. The primary type of economic activity of this company, registered in Kyiv – "Wholesale trade services of computers, computer peripheral equipment and software". Since September 2021, the entrepreneurs have imported video cards (at least, five times), notebooks and equipment for their servicing into Ukraine. This legal entity also ordered refrigeration equipment used to create crypto mining data centers.
‍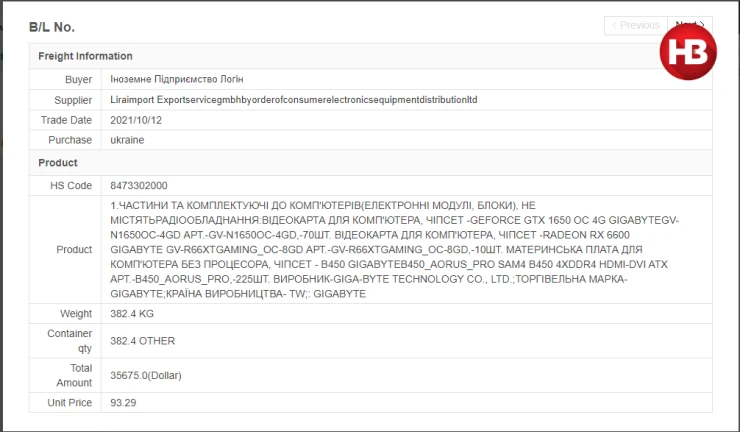 ‍
In total, since 2017, these three companies and one Individual Entrepreneur has spent about $7.8 million on such purchases.

https://biz.nv.ua/ukr/tech/naybilshi-v-ukrajini-importeri-obladnannya-dlya-mayningu-statistika-novini-ukrajini-50207857.html