Anton Olegovich Yelizarov, known as "Lotus" commanded the "Wagnerites" group in the area of Soledar city. He is hailed as a "hero of russia" and also a "hero" of the unrecognized "lpr and dpr".
On January 26, 2023, the U.S. Department of the Treasury's Office of Foreign Assets Control (OFAC) designated the private military company "Wagner" as a transnational criminal organization, imposing sanctions on both individuals and entities associated with it.
The identity of the commander of the Wagner terrorists in the Soledar region was identified, among other things, as a result of a conflict with another terrorist, Igor Strelkov-Girkin. In one of the interviews, "Lotus", speaking on behalf of the Wagner PMC fighters, called Strelkov a "sofa expert" and blamed him for the careless, ineffective occupation of Ukrainian territory in 2014. Yevheniy Prigozhin had to defend his commander, mentioning his real name.
‍
❗️ Molfar social media 👉 Molfar Global
‍
"Lotos" the commander of the mercenaries of "Wagner" PMC in the Soledar-Bakhmut direction
‍
Yelizarov was born in Zernograd city, Rostov Region. In 1998, he graduated from the Ulyanovsk Guards Suvorov Military School. In August 1998, he got a military ticket No. AM0803300 "Military Commissariat of the Soviet District of Ryazan". In 2003, he completed his studies at the Ryazan Guards Higher Airborne School named after General V.F. Margelov, specializing in the operation of multi-purpose tracked and wheeled vehicles.
After graduation, he served in the South Eastern District. He commanded a platoon and a company in the 7th Guards Airborne Assault Division (Mountain) in Novorossiysk, served in the 10th Separate Special Forces Brigade of the GRU (Molkin village, Krasnodar Territory). He probably took part in military operations in the North Caucasus.
In 2007, he worked for the Novorossiysk guard company 'Vympel-Caucasus'. He also worked as a personal driver and manager of fuels and lubricants. From 2015 to 2018, he owned a private enterprise in Krasnodar with a KVED for carpentry and joinery.
russian criminal — qualified designer
‍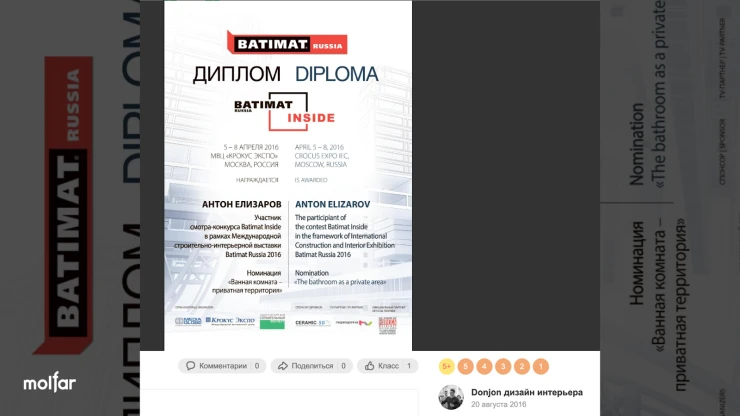 Since September 2014, he has been designing interiors for Donjon apartments, offices, and spaces in Krasnodar. In July 2015, he posted his first Instagram post, using the hashtags of the interior designer Oksana Danilenko. In April 2016, he received a personalised diploma for his participation in the competition at the construction and interior exhibition in Moscow. In August 2016, he registered the domain donjon.design. In March 2018, he posted his last post on Instagram, OK, and VK. As of February 2023, the domain is for sale.
Current activities of Anton Elizarov (call sign "Lotus")
"Wagner" Group
The Private Military Company, also known as the Wagner Group (Wagner group / PMC Wagner), is a Russian non-governmental military formation. Since 2014, the group has operated in Ukraine, and later (1, 2, 3, 4) in Syria, Sudan, Central African Republic, Libya, Mali, Venezuela, Guinea, Angola, Botswana, Congo, Madagascar, Rwanda, Mozambique, Zimbabwe, Lesotho, Chad.
In 2017, it was included in the U.S sanctions list, which fixed its name ("PMC Wagner"). In 2021, the EU sanctioned the PMC for the undermining of Ukraine's territorial integrity and sovereignty, the destabilisation of Syria and Libya, and the violation of human rights.
‍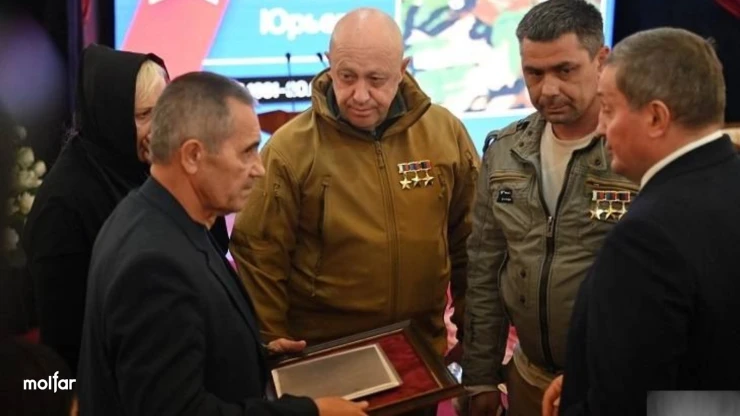 ‍Probably in 2016, Yelizarov joined the Wagner PMC and was assigned the call sign "Lotus", number M-0136. As a Wagner member, he took part in military actions in Syria, where he was probably injured in the leg, in 2018-2019 he was an instructor in the Central African Republic, and in 2021 he commanded an attack unit in Libya. In February 2017, he owed 500 rubles to the military unit 51532 in the town of Molkin (probably the headquarters of the Wagner PMC). In July 2018, he had two debts of 500 rubles and 1.5k rubles. In March 2020, the proceedings against Elizarov were reopened in Molkino.
In October 2022, he participated in the war in Ukraine and was involved in the creation of the 'people's militia' in the Belgorod region. In January 2023, he commanded the Wagner PMC troops during the occupation of Soledar.
‍
Negative things related to Anton Yelizarov
The fraud with an official apartment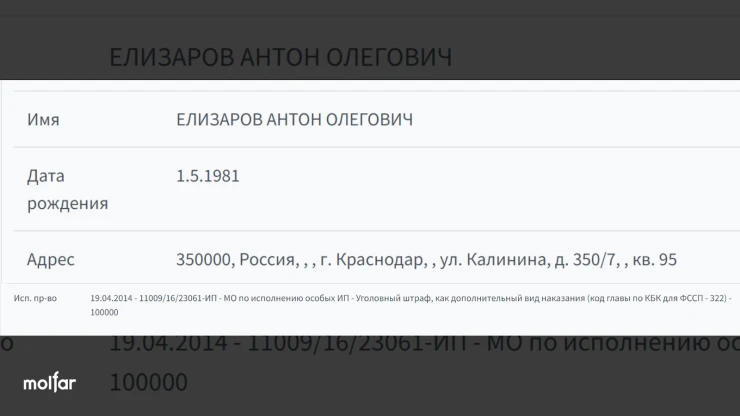 When Yelizarov was an army officer and a contract military serviceman, he got a two-room apartment for the term of his service, which he rented with his wife and daughter.
He used fake documents about Yelizarov's enrolment at the command of the troops with early military discharge on preferential grounds and applied to the court. In his statement of claim, he asked for the recognition of his and his family members' rights of joint shared ownership of the apartment through free privatisation. The claim was satisfied, and the court decision came into force.
In 2014, after an investigation, he was sentenced to a 3-year suspended sentence and was fined 100,000 rubles for the illegal privatisation of his service property. The same information was confirmed by an insider.
"YugGostStroy"
In August and September 2016, the Donjon design studio published (1, 2) the YugGostStroy website anapa-ugs.ru with the post "Our website" on the pages of its design studio. "YugGostStroy is building housing with the option of a military mortgage. In 2018, the company took money for construction and disappeared, according to 3 users. As of February 2023, the contact person for YugGostStroy on VK is the user "Геворг Анапа" ("Gevorg Anapa") (VK), the company's numbers +79528226884 and +89189814333 are signed as "Георгий" (Georgiy) and "Гоша" (Gosha).
Statements about the war, against Ukrainians
‍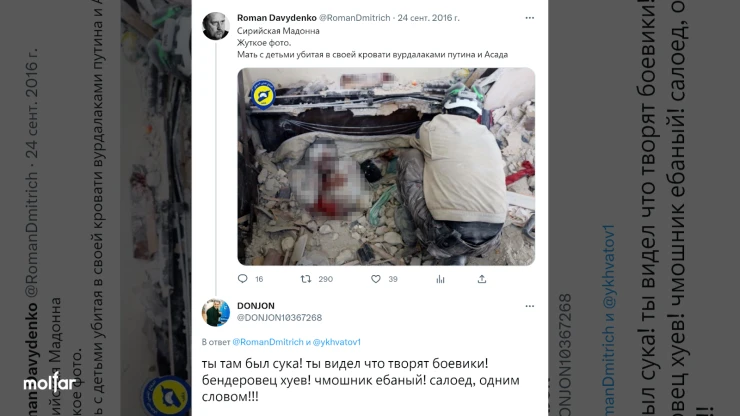 — In September 2016, Elizarov liked a propaganda video of a February 2015 report by Russia 1 TV channel in Odnoklsniki social media. In that post he said that local citizens were allegedly looking for and taking food from an abandoned Ukrainian army camp in Debaltseve. The inhabitants also said that the AFU allegedly did not give them humanitarian food provided by Ukraine;
— He left (1, 2) comments on Twitter:"they are not capable of more than that! ukrainians have always been looters and freeloaders!";
— He left (1, 2) comments on Twitter post about the woman who was killed in Syria: "you were there, bitch! you saw what the militants were doing! benderovets fucker! fucking bastard! saloed ( *a derogatory and offensive word which means a person who eats pork lard. This word russian uses a negative connotation)".
The family of "Lotus"
Wife, daughter:
Yelizarova / Rezvan, Alexandra Valerievna (14.03.1985, VK, Inst, OK, +79604986885 (TG ID 479730095), elizarova_1985@bk.ru passport 6001766310 TIN :231522572704 ISSN: 23152257270 known passwords: 14031985, Arina2005) – wife, in 2012, presumably worked in the administration of Krasnodar Krai. They got married in 2002, and presumably in 2018, she changed her last name to Yelizarova.
Owns a BMW 530 (license plate: Н024ХТ123, VIN: X4X8A594105B88006, price ~$35k)
Elizarova Arina Antonovna (October 6, 2005 VK, OK, Inst, Tiktok , +79094464083, skype://live:.cid.654c47309a5e8b4d, arinaelizarova@bk.ru, arinaelizarova96@mail.ru, arinaelizarova262@gmail.com passport 0319378186) – daughter, In 2016, she had a debt of 5,000 rubles, which led to enforcement proceedings against her. In 2007 and 2009, she was registered at the address Novorossiysk, Anapskoe Shosse/Krestyanskaya d.66 B. Apparently, in 2017, she left a review on Donjon.
Wife's relatives
Olga Mikhailovna Rezvan (June 10, 1954), ITIN: 6111009144, passport: 60 04 604563) – mother of Alexandra. She was registered with her at the address: Zernograd, Telmana Street 32 38. In 2006, she worked as a controller at Mezhraigaz in Zernograd. In 2017, she worked at Zernograd Special Boarding School. In 2008, she worked at Binom LLC, a wholesale supplier of household goods in Rostov;
Valeriy Georgiyovich Rezvan (February 1, 1954), passport 6004166659, ILAIN: 61111041130, ITIN: 003103406579) – Father of Alexandra. Known address: Zernograd, Nauknyi Gorodok Street, Building 2, Apartment 15. Divorced from Olga Mikhailovna. In 2017, he worked at the state research institution "All-Russian Scientific Research Institute of Grain Crops named after I.G. Kalinenko.";
Elena Alexandrovna Morozova (March 1, 1955) – Valeriy Rezvan's wife since 1991;
Elena Valerievna Morozova / Rashanskaya / Rezvan / (May 31, 1991) passport 6011989681) – Daughter of Valeriy Rezvan. Married to Citizen of Latvia Viktor Serhiyovych Rashansky.
Kravtsova Nadezhda Viktorovna (August 20, 1976), passport 6004923903, ILAIN: 06967127509) – Relative of Olga. In 2017, she worked at the "Zernograd Special Boarding School." She was registered with her at the address: Zernograd, Telmana Street, Building 32, Apartment 38.
Yekaterina Vyacheslavivna Uzolnikova / Kravtsova (April 3, 1997, Inst, VK (del), OK, +79615285611 (TG ID 633647382), ekaterina.kravcova.3.04.97@mail.ru, passport: 02АН660428, ILAIN: 15848861726) – it is possible that she is a relative. In 2018, she used the number of Yelizarova Oleksandra, possibly the sister of Yelizarova Arina. In 2018, she worked as a "starting manager" at LLC "Aktiv". As of 2021, she resided at Krasnodar, Kalinina Street, Building 350, Apartment 7, Apartment 95. Since April 2022, she has been a co-founder (20%) of the Moscow-based legal entity LLC "Get Experts", and since July 2022, she has had a 20% stake in the Moscow-based legal entity LLC "Get Experts Recruitment";
Yelizaveta Vyacheslavivna Kravtsova (June 16, 2009), VK, passport: 02АН751373, SNILS: 15795381417 most likely a relative, registered at the address: Zernograd, Telmana Street, Building 32, Apartment 38.
Alexander Andriyovych Uzolnikov (July 29, 1991), +79064367220, +70311842382, ITIN: 234912831090, passport: 0311842382 as of 2021, he is registered at the following address: Krasnodar, Kalinina st. 350, building 7 apt. 95. In 2014, he worked as a carpenter at LLC "Vybor". He owns a BMW 316I with the license plate О475МК123, manufactured in 1999 VIN WВААL11020JN28579. Also owns Mercedes-Benz С 180 CGI with the license plate Х277КХ123, manufactured in 2012 VIN WDD2040491A725583 (~1.2m rubles).
Connections of "Lotus" with other people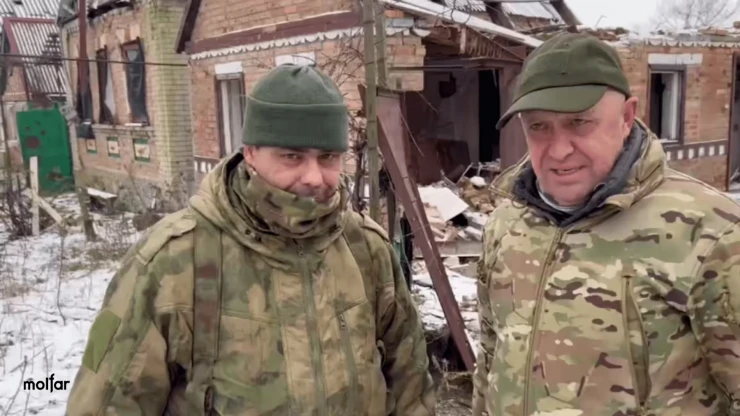 ‍
Yevgeny Prigozhin / Yevgeny Viktorovich - the owner of PMC "Wagner". Present in the photo together with Elizarov.
Oksana Danilenko (Inst) - an interior designer. In 2015, she used hashtags on Instagram related to Donjon. Since 2010, she has been married to Igor Tsibusov (VK), the director of the boiler house design project at LLC "TeploGazStroyProekt Krasnodar". In 2022, she and her husband filmed a movie about street art.
Mykola Ivanovych Hontcharov (12.12.1952, VK, +380505744326 (TG ID: 5172359771), TIN: 1933900153 (Ukrainian)) - originally from Kramatorsk, registered at 350 Kalinina Street, 95 in Krasnodar. He worked (1, 2) at LLC "Zavod avtogennoho obladnannia "DONMET" (Autogenous Equipment Plant "DONMET") and at the fuel trading company LLC "Nafta". He is subscribed as "Kolya MChS-and-MVD" (MChS - The Ministry of Emergency Situations of Russia, MVD - The Ministry of Internal Affairs of Russia) on VK with the phone number +380505744326.
‍
Deanonymizing the Criminal: Contacts of Anton Elizarov
Personal contacts
FB, OK, +79615892598 (signed as "Lotos Medoyed"), +79604575340, +79094464083 (this one is used by his daughter.), +79676565461 (signed as "Anton Lotos"), elizarow.ant@yandex.ru.
Workplace contacts
Inst, VK, VK2, Pinterest, OK, OK2, TW, +79189373605, +79648948104, donjondesign@gmail.com, office address: Krasnodar, Frunze st. 169.
Additional Information
Known addresses
2020 – Krasnodar, Kalinina 350, building 7, apt 95;
‍
About the defence of Soledar city
Russian propaganda tries to show the occupation of Soledar as a great achievement of the Russian army, but in fact, Soledar has become a place of critical losses for the Russian armed forces. During the city's defense, the Ukrainian Armed Forces did not allow the enemy to systematically break through the defenses in the Donetsk sector.
For information: Soledar is a small town located 20 km north-east of Bakhmut. The defence of Soledar lasted from 3 August 2022 to 16 January 2023. As of mid-February 2023, fighting between the Ukrainian Defence Forces and the Russian Armed Forces continued in the villages beyond Soledar, in the direction of Bakhmut (northern flank of Bakhmut).
‍
✉️ Please fill out the form below to contact the team and receive a comment: business@molfar.global
‍