The Molfar team stands in solidarity with Artemiy Lebedev in the desire to "shit on authority". Therefore, we publish personal contacts, information about relatives and places of residence of all those involved with Artemiy Lebedev in open access. Here at this link you can get everything we found on the famous fashion blogger, designer and innovator Artemiy Lebedev. Mischief managed!
Preamble
Not long ago, Artemiy Lebedev visited the ZNPP in the temporarily occupied territory of Ukraine, after which he wrote on his Instagram that "a full life should consist of such small joys." The act is controversial, but we are dealing with a real traveler! In this regard, we publicly invite Artemiy Lebedev to visit Bucha to take a wonderful photo from the bottom of the mass grave. It will be truly unforgettable, Artemiy, come!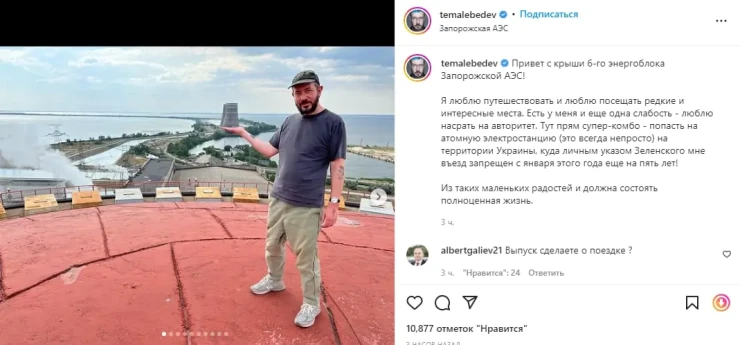 In the meantime, we will introduce peace to your children. If not you, then your descendants must get back all that creative energy that you spread in the infofield. It will be just great! The great father of great children gave them a great future! Let's not waste time and say unnecessary words, let's get to know each other!
Zelenskiy's "personal decree" banning Lebedev
Why is a fashionable Moscow designer, who managed to sell the subway logo for $6 million, banned from entering Ukraine? It's simple: he repeatedly violated the laws of Ukraine regarding visits to the so-called quasi-states of the L/DPR and the annexed Crimea.
In addition to crossing the borders of Ukraine to enter the territory temporarily occupied by Russian orcs, Lebedev does his bad thing on his trendy YouTube channel:
in the context of Anton Ptushkin's story, he says that the blogger moved from Luhansk to Kyiv, where "the same people who bombed his native home in Luhansk" and talking about the fact that there are no Nazis in Ukraine, Ptushkin is "lying";
claims that the photo of events from Bucha is a fake;
calls the "Heavenly Hundred" Maidan idiots.
Everyone has the right to their own opinion, but it's a pity that Artemiy had the sense to voice it publicly.
Children of Artemiy Lebedev
We remind you once again that the personal data of Artemiy Lebedev and all members of his family are available to ardent fans of the designer at this link.
Artemiy Lebedev had 5 wives during his 47 years of life. He still lives with the last of them, Olena Lebedeva, and has 6 children from her. The designer has a total of 10 children, all of them his (not adopted).
The age of Artemiy's children is very different: from very young to adults. Lebedev does not show the older children, Olena shows the younger ones in his Instagram, but there is always no husband in the photo. Artemiy proves his position by the fact that a certain anonymity gives them freedom and does not impose the imprint of a successful father. At the same time, the same surname is not a problem: Lebedev is one of the ten most common surnames in Russia.
The fifth wife of Artemiy, taking into account not least, for some reason feels ashamed for her husband's trip to the occupied territory of Ukraine. The strange mysynchrony is most likely connected with the intentions of the creative flow within the family scraps of the Russian family.
You can see the four youngest children of Artemiy and Olena in the photo here, here, here and here. They are not teenagers yet. In an interview, Olena says that she has all 6 children from one husband.
Sava Artemovich Lebedev is the eldest son from his first wife. Studied psychology, and now programming.
Lebedev Vasyl Artemovich – is fond of drawing.
Maryana Artemivna Lebedeva – animator, artist. Does not live in Moscow.
Hanna Artemivna Lebedeva – like Maryana, moves a lot, often visits Barcelona, ​​which she considers her hometown.
Lebedeva Polina Artemivna is an entrepreneur, has her own jewelry studio and the Arha jewelry brand.
All of Artemiy's children are very private people. They don't have tens of thousands of followers or some super successful business/recognition. Accounts in social networks are mostly closed, Artemiy himself indicated that the children have a narrow circle of acquaintances, whom they trust with "the secret of their father" – that he is a famous Russian designer. Here's how you see, And Putin gave him the order "For services to the Motherland".
So that's probably all. If possible, send greetings to Artemiy, everything is correct about Bucha and the mass grave, we will refund the travel receipts. We wish Artemiy to retrain as a designer of gravestones as soon as possible, because for Russia this is mega-money and already on a ready-made brand you can earn really big capital!
Moreover, families of Russian soldiers are paid money for dead orcs. Money is of no use to the dead, but Artemiy will feed hungry children with it. See you soon, Artemiy!