Around a year ago no one in Ukraine was aware of such a name as Maria Lvova-Belova. After the full-scale russian invasion of Ukraine faithful putin's servant, russian ombudsman, has become famous for her contribution to the unlawful deportation of Ukrainian children.


In March 2023 even more people found out about Maria Lvova-Belova, particularly overseas. Russian commissioner for children's rights, in company with vladimir putin, was issued an arrest warrant under the decision of International Criminal Court in Hague. She is suspected of the illegal deportation and transfer of children from Ukraine to russia during the invasion of Ukraine.
The International Criminal Court claims to have reasonable grounds that a russian public advocate for children's rights is personally responsible for the deportation and unlawful transfer of underage, "committing a crime directly or with the help of other people".


Despite everything mentioned, Ukrainians were truly outraged when Vice magazine released an interview with an international criminal, Lvova-Belova. In this interview, a "saint" russian ombudsman was trying to clean her reputation for 15 minutes. But still, the arrest warrant of ICC has much greater weight.


Why is the russian criminal Maria Lvova-Belova actually occupying the position of russian ombudsman illegally? How exactly is her family getting enriched by inclusive houses for people with physical disabilities? Why is Belova accused of multiple deaths of her wards, and how in particular is she participating in the deportation of children from Ukraine? Read all about it in Molfar's OSINT investigation.


Maria Lvova-Belova: from children pornography files of her father to the position of russian ombudsman
Maria grew up in a large family in Penza. In 2002, she graduated from the School of Culture and Arts, where her father was teaching, and obtained a diploma of Pop Orchestra Conductor. Talking about her father, we should remind you that in March 2023 several folders with child porn were found in his mail by the hacker group "Cyber Resistance". Incidentally, he already expressed his political position by supporting the annexation of the Crimean Peninsula becoming one of the organizers of the Crimean Bridge festival in 2021.


Hackers of the "Cyber Resistance" group have found child porn in the mail of Maria Lvova-Belova's father / video taken from the Telegram group of the "Cyber Resistance" group.
Maria claims that in the years 2003-2005 she studied at Samara University of Culture and Arts, but the University did not confirm her degree. In 2019, she entered the Penza State University of Technology.

An ombudsman with a conductor degree: Belova's political career
Despite the fact that Maria has only received a degree of a conductor, it hasn't become an obstacle for the start of her political career. In 2011 she became a member of the Public Chamber of the Penza region, although other sources indicate different years - from 2014 to 2019.
A powerful boost in Lvova-Belova's political career happened in 2018 when she became an authorized representative for Putin's presidential candidate in the Penza region. A year later she apparently realized that cooperation with a dictatorial government of the russian federation can expand her powers and bring more significant financial benefits, so she becomes a member of the Presidium of the General Council of the Political Party "United Russia". This is the dominant political party in russia that supports vladimir putin's policy.
In September 2020 Lvova-Belova was appointed a senator and a member of the social politics committee of the russian federation by the governor of the region. And already in October 2021 serving the russian government brought its expected results – russian dictator appointed Maria a public advocate for children's rights. She holds this position until now. Interestingly, at the time of appointment, the ombudsman didn't have the university degree required for this position, meaning that she occupies this post illegally.
A temple for a husband, concealment of financial records, and multiple deaths of people with disabilities
Maria Lvova-Belova has created her image on helping orphans and children with disabilities. However, she has never had any other intentions apart from getting enriched by exploiting people who cannot stand for themselves. Molfar has collected facts that are able to prove that.
From 2008 to 2019 Belova together with future ombudsman Anna Kuznetsova was running Penza regional organization for the promotion of social adaptation of orphans and people with disabilities "Blagovest".
Belova has received 176.000 russian rubles from this organization. In 2012 "Blagovest" ("New Shores") received 2 subsidies from the government of the Penza region for a total of 494.000 rubles. In 2014, the organization attracted 2.38 million rubles from the government and individuals. Since that year, the fund has not submitted any financial records. And in 2020, the organization was completely liquidated at the request of Belova herself. Consequently, the circulation of money in the organization remains a mystery.


Since 2015 Maria had been occupying the position of executive director of an autonomous non-profit organization for the promotion of social adaptation of the individual "Louis Quarter", and in 2017 she became its sole proprietor. After the transfer of ownership took place, "Louis Quarter" delayed payment to the pension fund and got a penalty for it. But this is not the most frightening thing that has ever happened in the building.
One of the residents of "Louis Quarter" Yevhen Nemtsov, who was only able to move in a wheelchair, was forced to leave the institution by Lvova-Belova. The reason for the conflict remains unknown. As a result, the young man ended up in a cold premise with a temperature outside being minus 30 degrees – a boiler in the building was broken, and Yevhen had to wait for it to be repaired for three weeks. During this time, a man got sick with pneumonia and died.
It should be reminded that "Louis Quarter" and "New Shores" are construction projects of boarding houses for permanent residence of people with disabilities, promoting their inclusion into social life. However, certain facts indicate the opposite.
Further in the investigation, we will talk about the initiatives that are part of the "Louis Quarter".
The duties of the head of the art mansion "New Shores" are assigned to Maria's younger sister Sophia. Interestingly, russian billionaire Roman Abramovich was involved in the financing of the institution. He provided 30 million rubles for the construction of this complex. The final cost of the project of the inclusive art mansion makes up 299 million rubles.
For 2022 mansion included 4 houses with 53 people living in them. There is a café on the territory of the complex where people with disabilities work. But witnesses say that there have been cases of abusive behavior towards disabled children working in the café, children are punched and shouted at with words like "go work". Besides, visitors complain about long waits for their orders and high prices that do not correspond to the quality of food.
By the way, besides Maria's sister, there's also a place for the ombudsman's husband. Lvova-Belova has built a church "for her spouse", where he became a rector.
In March 2022 Ukrainian collaborator Sergey Aksyonov was planning to bring to life a new project on the territory of annexed Crimea in a partnership with "New Shores". It was supposed to be glamping (an outdoor hotel with facilities) for inclusive tourism, but the presidential grant fund didn't support this initiative. Perhaps, it was rather clear at that time already that investing money in Ukrainian Crimea is meaningless.‍
‍‍
This is another inclusive house of Maria Lvova-Belova that she opened in 2017. It can accommodate by 10 adults with disabilities. It also includes a hostel for temporary living. According to the legislation of the russian federation, "Veronika's House" must have at least 1 star to rent premises. The Ombudsman replied that the house is registered as a "private guest house".
Those living in "Veronika's house" partially pay for communal services and the curator's work.

Traditionally, there are no financial recordings of this inclusive house, consequently, there's no information about its income and spending. In 2020 a situation occurred there, which is also partially connected to money. As is known, a young man called Ilmir Valiyev died in the mentioned inclusive house. His death was caused by the fact that he didn't undergo a vital procedure of dialysis twice due to his inability to pay for a taxi.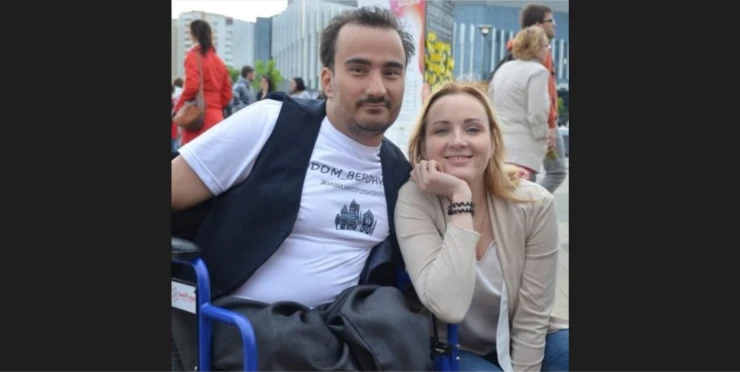 Later one of Penza's hospitals discovered that Ilmar had had a loan debt of 800.000 rubles. Other wards said that they had been forced to get a loan as directed by Maria Lvova-Belova. She commented on that saying that residents of the inclusive house are placed there on full boarding, and all further procedures, like dialysis, have to be paid for by residents themselves. So to do that, they have to get a loan and gradually pay it back using money from a disability pension. Considering the situation, "Veronika's house" is generating a formidable income.

Where does the money come from?
According to financial reports, "Veronika's House" and "Dom on Berezovskyi" spend 700.000 rubles per month, or 8.4 million rubles a year.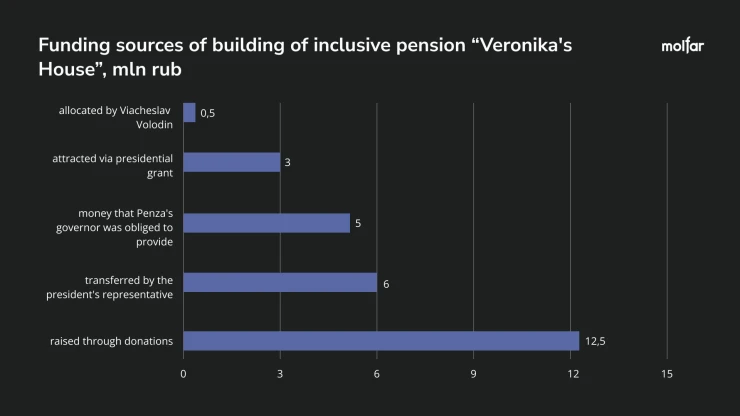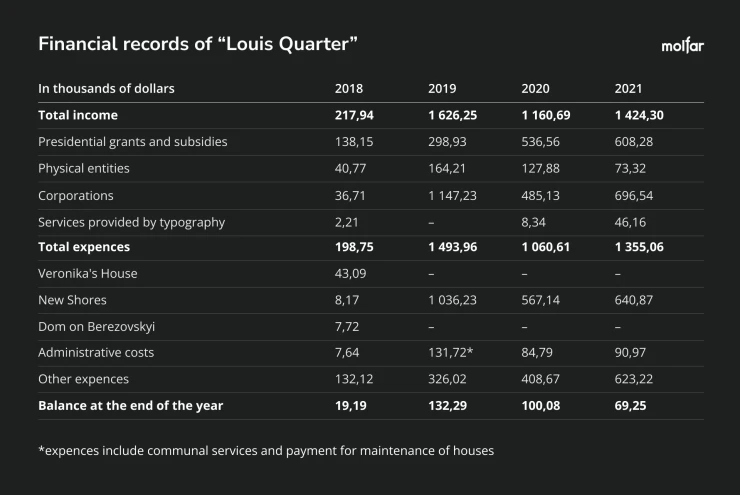 ‍Child deportation from Ukraine
After the beginning of a full-scale invasion of Ukraine, Maria Lvova-Belova has become an image of the unlawful deportation of Ukrainian children.


In April 2022 russian ombudsman negotiated with representatives of temporarily occupied territories of Luhansk and Donetsk regions to accelerate the adoption process of Ukrainian children. In May putin issued an order to grant russian citizenship to Ukrainian children, which legitimized the adoption process.
Not only did Lvova-Belova promote the deportation of underaged Ukrainians, but she herself accompanied child abduction from temporarily occupied territories of Ukraine. She also makes false statements and spreads deceitful ideas all around the media that Ukrainian children feel "happy in russia" and don't want to go back.


Meanwhile, we can remind a case when a deported child tried to flee russia. In April 2023 Bohdan Yerohin, an orphan from Mariupol, was taken out to Donetsk first, and then to Moscow region to his "new family". The boy tried to escape russia through Belarus and go back to Ukraine, but he was detained by the russian secret service.


What is also frightening, other than deportation, is how the distribution of deported kids works. In civilized countries, adoption is a long-term process since many safeguard clauses are applied. In russia, however, families simply receive a phone call and are confronted with the fact that they will be given a child within a week. Here is what a woman who was given 4 children from Ukraine says:

"I have to say, – it is here like a mobilization. They called me – take kids in a week. How can I take them, I need to do something, - Larisa says — Frankly, seven children were already over the edge, so it is hard, of course".
‍
In February an International Criminal Court issued an arrest warrant for putin and Belova. But it seems that this fact does not bother Belova very much, because, in one of her interviews, she said "I am a mother. That says it all. What sort of criminal am I, what are you talking about?"
‍
Ombudsman's family
To validate her status as a kindhearted woman, Maria took 6 children under her guardianship. But 5 of them are older and don't live with her. The only deported kid that actually lives in her family is Pylyp Holovnya from Mariupol. Propaganda claimed that Pylyp's custodians had abandoned him right after the first shelling. In fact, his parents died. The last husband of the boy's mother took him under guardianship. Right now, he is most likely in occupied Mariupol. There is no information about their relationship at this point.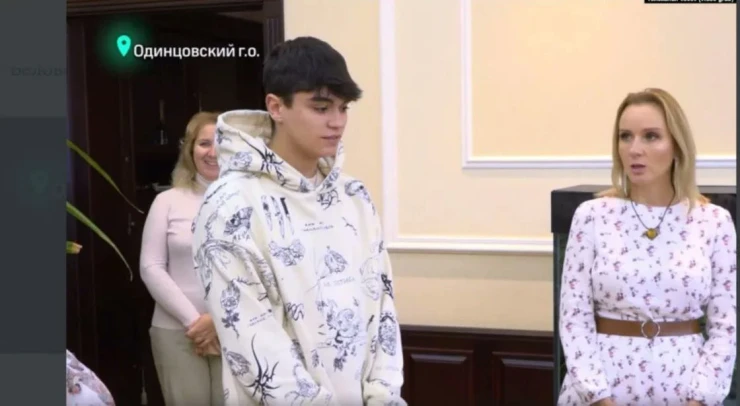 It is difficult to say how exactly did Pylyp end up in russia. There is a theory that the russian Ministry of Emergency Situations took him out of Mariupol in April 2022 when Philipp went out to the supermarket to receive humanitarian aid. Probably, he was then moved to the hospital in Donetsk, and in May, he might have been taken to the social center in the same city. From there he was moved to the boarding house "Poliana" in the Moscow region and after that adopted by Belova's family.


Predictably, this deportation story gained publicity. The ombudsman herself was bragging in front of putin saying that now she knows what it is to be a mother of a "Donbas child". It was not without kremlin narratives. Belova argued that the boy had been using phrases like "I will eat little moskal". In September 2022 Pylyp got citizenship of russia and entered the college of Law.


The other 5 children under her custody started their independent life, three of them have debts to the creditors, and one daughter has left the family and doesn't communicate with Belova for 3 years already. Maria also has 5 own children.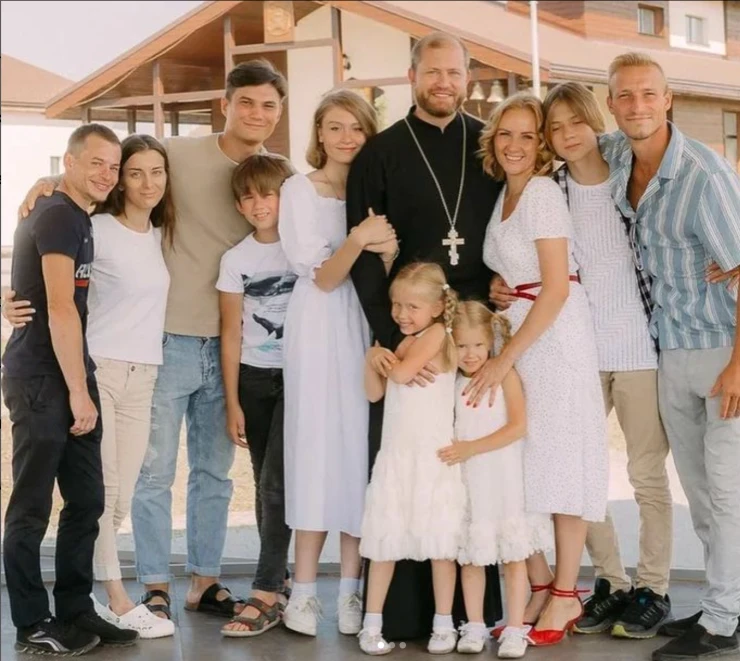 ‍Other close relatives of Belova
Almost all of Belova's family is one way or another participating in her "inclusive business". Or sooner, her relatives receive money from hubs that are under her control. In particular, her sister received almost 1 million rubles in 2021 occupying the position of architect, her father got 403.000 rubles, and her husband – 165.000 rubles. Also, Belova's husband became a pastor in February 2022 by the order of Patriarch Kirill of Moscow, when Maria had already been promoted to the position of the ombudsman.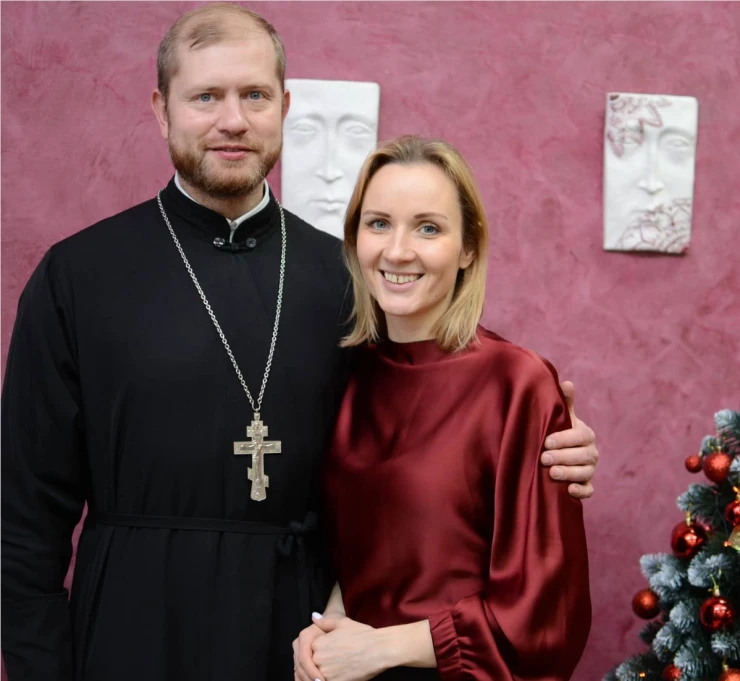 ‍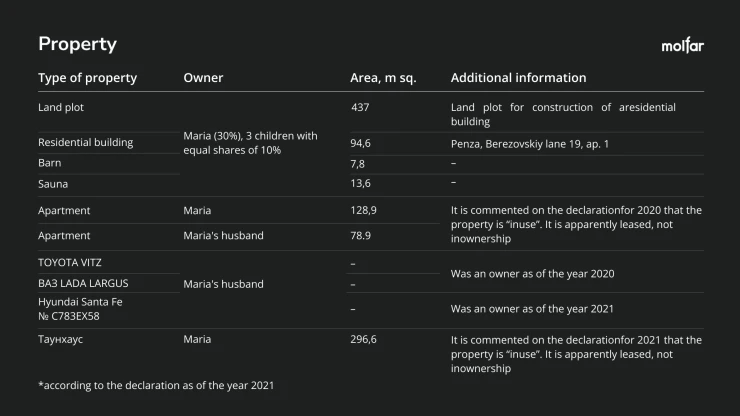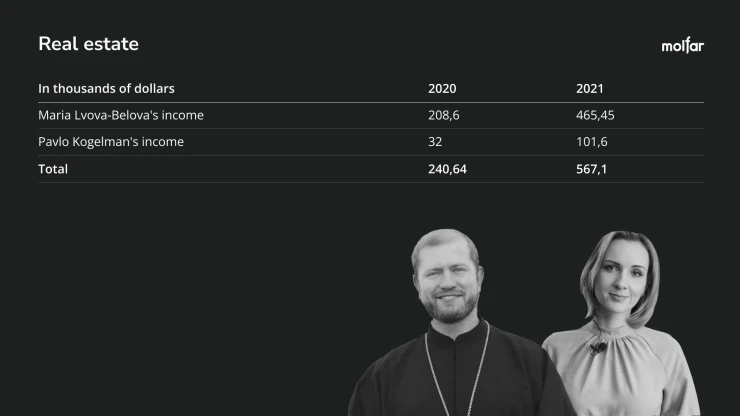 ‍
Maria Lvova-Belova's Private information
Contact information: Inst, VK, FB, Li, Pinterest, TG channel, lb_masha@mail.ru, maria_goloburda@mail.ru, lvovabelova@mail.ru, +79033249411, +79168620854, skype:.cid.e9d3861737c02f81, goloburda1604.

Passport details: tax number (ru): 583712612853, SNILS (ru): 11837022843, passport number: 5604443774.

Among other passwords that Belova uses, there's also this one: "mamasha".

Maria prefers sanctioned cheese and prosciutto. She's also into drinking wine.
She buys medications in "ZdravCit" pharmacies and takes medical tests in "Homotest" laboratories in Moscow.


In 2021 she traveled to temporarily occupied Crimea as an ombudsman. In March 2023 she received a letter of gratitude from the head of so-called DNR denis pushilin for "merit to the fatherland".
In June 2022 she came to an arrangement with kadyrov about creating routes for children with physical disabilities. Kadyrov also mentioned that leaders of the "republic" will continue supporting children from Donbas who have become victims of "Ukrainian nationalist aggression". The same month, "New Shores" was visited by Patriarch Kirill.


The russian ombudsman is an accomplice to the genocide of the Ukrainian nation, she propagates a clear anti-Ukrainian position and shows signs of fraud.
An orthodox woman of 11 children, who "protects" children's rights. Isn't this an ideal image created by Maria Lvova-Belova? Hiding behind all this regalia there is a criminal who carries out the unlawful deportation of Ukrainian children and supports war, which has begun by the order of putin.
Ukrainian leadership and allies emphasize that the unlawful deportation of children from the territory of Ukraine is a sign of genocide. Ukrainian children are illegally and under duress given russian citizenship. And this fact itself is aimed to eliminate the Ukrainian nation. But of course, the russian ombudsman will not speak a word about it.
At the moment, Maria Lvova-Belova is under international sanctions for her support of putin. We hope that she and other russian perpetrators will get real sentences and will be punished by the International Criminal Court.
‍
If you have any questions about this publication or wish to dive into this topic in more detail, email us: business@molfar.com
‍