The Molfar team analyzed 1,348 confirmed cases of death of soldiers from depressed regions of the Russian Federation. All of them died in the war in Ukraine for the Kremlin's imperial ambitions. We show on the graphs which nationalities the military leadership of the Russian Federation considers to be "third class" people.
According to numerous reports (1, 2, 3, 4, 5) of the Main Intelligence Directorate of Ukraine (GUR), since the very beginning of the full-scale aggression against Ukraine, there has been a non-stop covert mobilization in Russia. Men from the so-called quasi-states of the LDNR are forcibly mobilized: they are not properly equipped, in case of capture, they are not exchanged. As for the military that Russia is recruiting for the war in Ukraine, our investigation confirmed the information of the GUR regarding the involvement of primarily those mobilized from the border regions of Ukraine. In addition to people living in the regions bordering Ukraine, Russia actively uses contractors from depressed regions, representatives of national minorities, for the war.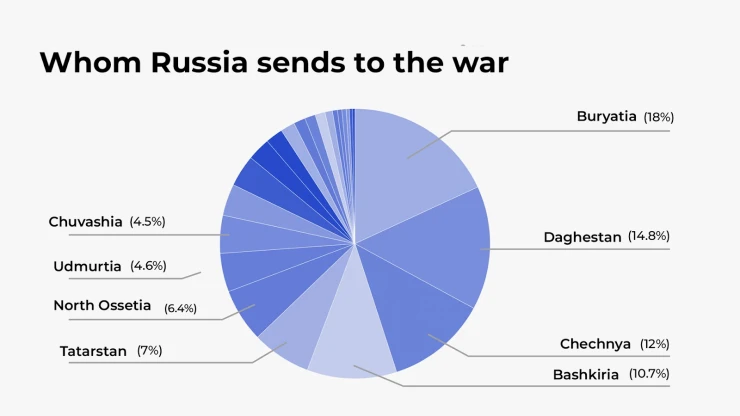 Such tactics are part of the Kremlin's grand plan to "Russify" the population.
People from depressed regions need money, so they are ready to go and die in war.
In the case of the death of representatives of national minorities, the leadership of the Russian Federation may not make compensation payments, since residents of depressed regions are the most unprotected segment of the population.
The more Buryats, Dagestanis and other nationalities die, the more "Russian" will remain in percentage. In this way, the Kremlin carries out ethnic cleansing.
In order to replenish Russia's gene pool with representatives of the Slavic ethnic group, the Russian Federation is forcibly deporting Ukrainians to depressed regions. There are numerous facts of cruel treatment of people.
By mobilizing people from remote regions, Russia maintains peace among the "elites" and "middle class" who live in the territories of the Moscow region, St. Petersburg region, Krasnodar region and other surplus regions. In this way, the people of Russia remain indifferent to the war in Ukraine, because all people with the right to vote believe that it "doesn't happen to them".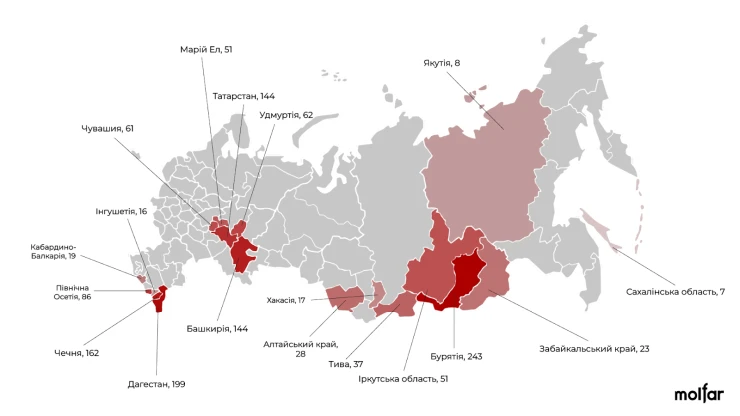 According to the available data, the following can be proven:
18% of the total number of casualties are from Buryatia;
14.8% are from Dagestan;
12% come from Chechnya.
Read the detailed investigation file, which contains all available information on each deceased person, as well as additional graphics – you can at this link.
It is also interesting to see how much Russia spends on the burial of its citizens. With the beginning of the full-scale aggression against Ukraine, these numbers were to grow many times, even despite the desire of the Kremlin to hide the real statistics of losses among the population of the Russian Federation. You can get more information on Russia's losses at this link.