The purpose of this publication is to demonstrate how many battle tanks Ukraine's partner countries have in their arsenal. In an interview for The Economist, General Zaluzhniy said that he needs 300 tanks to counterattack and support defense operations. That's three hundred armored vehicles compared to the thousands of tanks that Ukraine's partners have in service. Why doesn't the defense coalition provide the Armed Forces of Ukraine with the necessary amount of armored vehicles? We in the Molfar OSINT community believe that the issue of transferring tanks is mostly political. We invite you to read our analysis and draw your own conclusions.
Molfar in social networks 👉 Molfar Global
How many tanks in the world?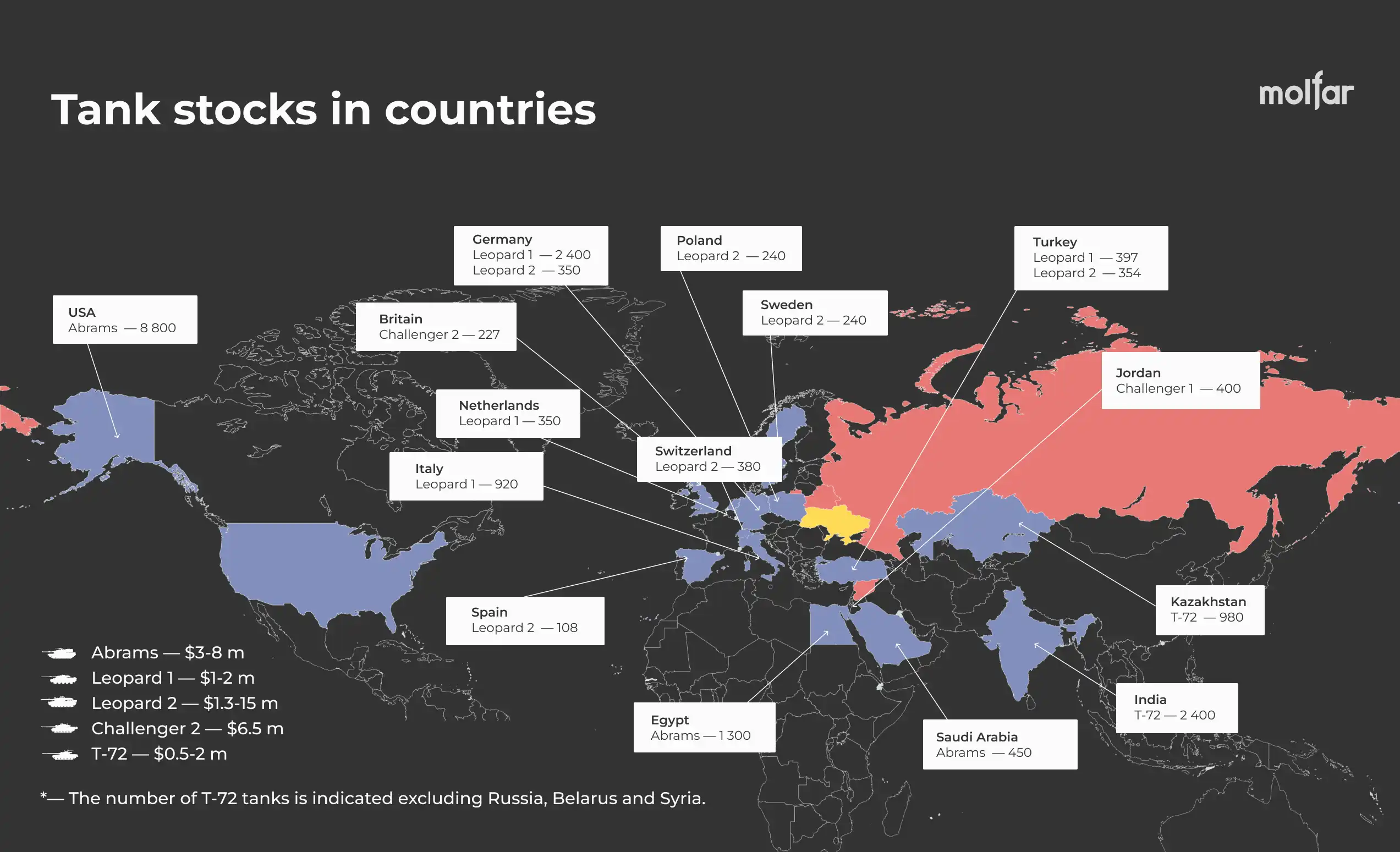 As you can see, there is no shortage of tanks in service among NATO member states and NATO partner countries.
After analyzing the stock of Challenger, Leopard, Abrams and T-72 tanks in different countries, we found out the following:
Challenger 1: Jordan, 400 tanks;
Challenger 2: Britain, 227 tanks;
Leopard 1: Germany, 2400 tanks | Italy, 920 tanks | Turkey, 397 tanks;
Leopard 2: Switzerland – 380 tanks | Spain – 108 tanks | Germany and the Netherlands – 350 tanks in each country | Poland and Sweden – 240 tanks in each country;
Abrams: USA, 8800 tanks | Egypt, 1300 tanks | Saudi Arabia, 450 tanks;
T-72: India, 2400 tanks | Kazakhstan 980 tanks.
❗️ The number of T-72 tanks is not including Russia, Belarus, and Syria: in total, they have more than 12,000 tanks in service, of which 75% are purely Russian reserves.
It should be noted that Russia and Russia's allied countries also do not suffer from a shortage of tanks in service – these are Soviet armored vehicles, but there are a lot of them.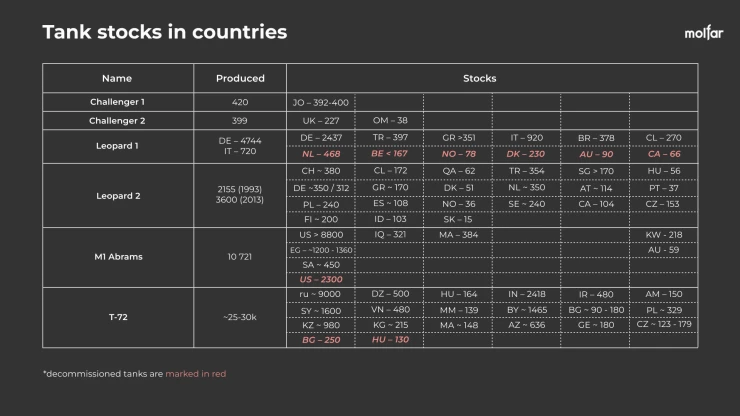 We believe it is also necessary to mention decommissioned tanks, that are not in service, but can be repaired and returned to service if necessary. The question is time and cost of repair.
Known decommissioned tanks in the countries:
Challenger 1: Jordan, 400 decommissioned tanks;
Leopard 1: Netherlands, 468 decommissioned tanks | Denmark, 230 decommissioned tanks | Belgium, 167 decommissioned tanks;
M1 Abrams: USA, 2300 decommissioned M1A2 tanks;
T-72: Bulgaria, 250 decommissioned tanks | Hungary, 130 decommissioned tanks.
Regarding the transfer of decommissioned tanks to Ukraine, after their restoration and repair, we can witness the first actions in this direction – Belgium is considering the possibility of rebuying previously decommissioned and sold tanks – for further transferring them to the Armed Forces of Ukraine.
Who gave Ukraine tanks?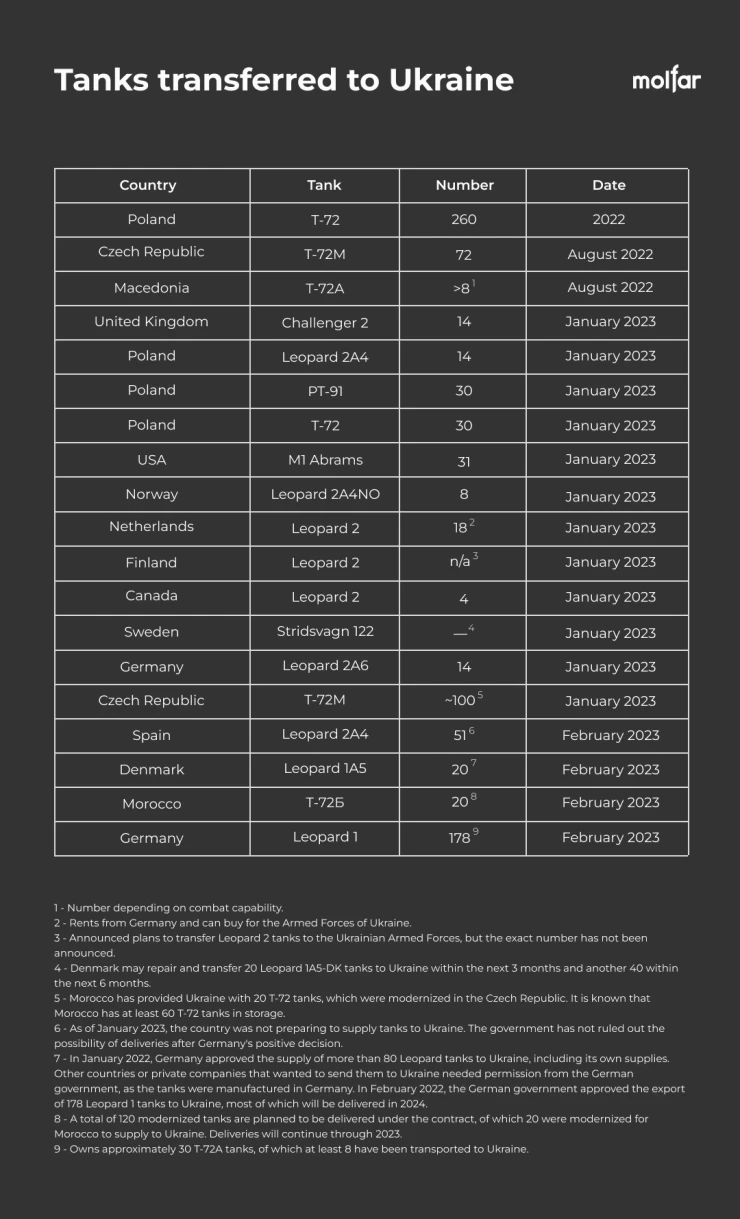 Estimated average cost of tanks and their characteristics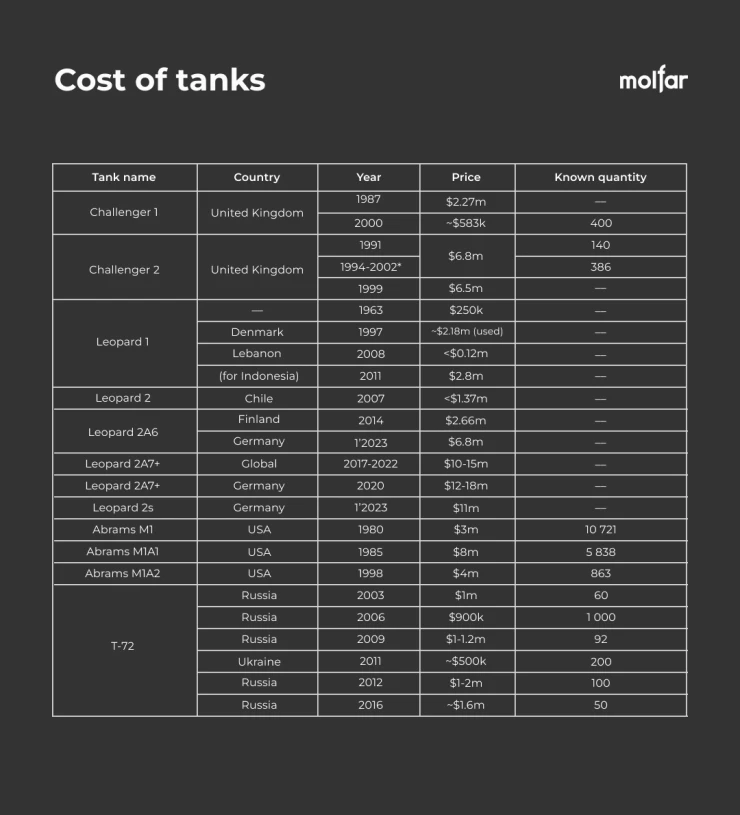 The price of a tank depends on the modification, year of manufacture, and duration of previous operation – decommissioned tanks should be cheaper.
The new Leopard 2A6 and Leopard 2A7+ cost $6.8m and $11m respectively. In 2014, Finland paid $2.66m for a used Leopard 2A6, although in 2007 Chile purchased 128 Leopard 2A4 for less than €1 million a piece (<$1.37m as of 2007) – the media explained this as political ties and immediate repair contracts.
Conditionally fixed prices for different tank models:
Challenger 1 – $0.5-2.2m;
Challenger 2 – $6.5m;
Leopard 1 – $1-2m;
Leopard 2 – $1.3-15m;
Abrams M1 – $3-8m;
T-72 – $0.5-2m.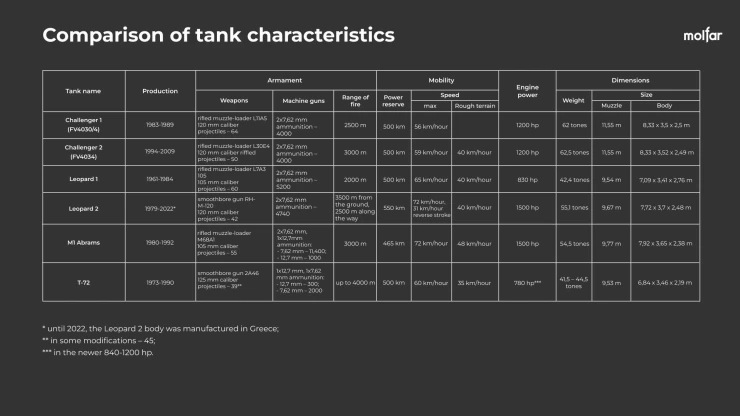 The T-72 and Leopard 1 have the weakest engines (~800 hp) compared to the others (1200-1500 hp), but because of this, they weigh 10-20 tons less, and Challenger tanks are slower than Leopard and Abrams, but the difference is not significant in other parameters.
According to Defence.ua, due to the newer upgrade packages, Abrams tanks are considered better than Leopard, but only if the Ukrainian Armed Forces receive M1A1 tanks:
armor: Abrams is considered to be better than Leopard 2A4, but in theory it can be offset by installing protection elements from Leopard 2A5;
fuel consumption: Leopard 2 consumes 3.4 l/km on road and 5.3 l/km off-road, Abrams 4.3 l/km on road and 8 l/km off-road. The former commander of the US Army in Europe, Lieutenant General Ben Hodges, stated that the M-1 Abrams division consumes up to 2.2 million liters of fuel per day;
service: there is only one Abrams operator in Europe, if we don't count the US Army itself – Poland.
Western tank models are better than the Soviet T-72 tank, but they are more expensive and more demanding in service, and require preliminary training of tank crews in the specifics of driving and fighting with a particular tank modification.
Comparison of Challenger 1 and Challenger 2
According to Stern's article, there are only 3% of identical spare parts between Challenger 1 and Challenger 2, the main difference in design is that the thermal imaging system in Challenger 2 is located above the barrel of the weapon, while in Challenger 1 it is located on the right side of the turret. The article by armyrecognition.com stated that the Challenger 2 is protected by second-generation Chobham armor, which provides increased resistance to penetration by anti-tank weapons, both kinetic effect (KE) and cumulative effect (CE).
It is noted that in practice, Challenger 2 has an effective range of 4000, which is 1.6 times longer than Challenger 1.
Also, In addition, the Challenger 2 has additional armor modules that increase the tank's combat weight compared to the Challenger 1. Since the Challenger 2 is equipped with its own high-explosive fragmentation rounds, it can destroy enemy fortifications or lightly armored vehicles at a distance of up to 8 km.
All Challenger 1 can be modified to the Challenger 2.
👉 Report EN: Proofs for each value in the tables, links to additional materials, the method of calculating the cost of armored vehicles
✉️ To contact the team and receive a comment, fill out the form below, or send your request to: business@molfar.com