OSINTdefender is a user of the social network X, which was previously known as Twitter. His posts often contain pro-Russian propaganda or blatant lies. Some of his publications have been a concern for many readers. For example, the story about Ukrainians being accused of a war crime for throwing a grenade at Russians or his praise of Russia's power and its geopolitical influence,
Elon Musk endorsed this "analyst". In social network X, misinformation spreads like wildfire. The fact that Musk supports such propagandist accounts is particularly alarming. Analysts at the "Molfar" agency decided to investigate OSINTdefender's activities. They uncovered his intriguing details, including his name, workplace, and interests. We'll delve deeper into this shortly.
X (previously Twitter): A hotbed for Russian propaganda
The EU has launched an investigation into the social network "X," which is increasingly implicated in scandals related to disseminating falsehoods and misinformation (1, 2, 3). In September 2023, news emerged that "X" would remove the feature, allowing users to report fake posts. Elon Musk, who has owned "X" since October 2022, is also accused of spreading propaganda through his page. Notably, in 2022, he stated that some Ukrainians wish to unite with Russia.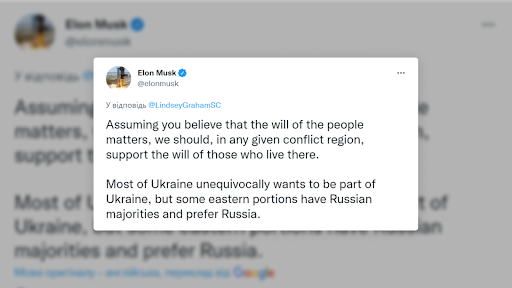 The account we'll discuss in this article hints at its intent right in its name, claiming to be an analytical expert specializing in open-source intelligence. Currently, it boasts over 800k followers on Twitter, with its posts reaching millions and garnering thousands of likes. Such platforms often earn users' trust by presenting themselves as independent analytical sources, unveiling "hidden" truths.
OSINTdefender received an endorsement from Elon Musk. Yet, the content and activity of this account raise eyebrows. Predominantly, its posts support Russia while criticizing Ukraine. The immense influence and trust placed in OSINT practitioners might be exploited in this case.
Who's Behind the OSINTdefender account? Identifying the Individual
Simon Anderson owns the "OSINTdefender" account, which he registered in December 2021. On Discord, the administrator of the OSINTdefender server goes by the name Leanandice.
Simon Anderson was born on november 19, 1999. As per his LinkedIn profile, he resided in Georgia, USA, until May 2022. However, according to True People Search, only one Simon Anderson in that state was born in November. In 2015, he worked as a cafe manager in Fayetteville, Georgia. It seems that from 2016 to 2019, he underwent training to become a military officer. In 2019, he joined the US Army, where he served as a radio frequency technician. Still, curiously, his profile mentions the US Air Force, also based in Fayetteville. His LinkedIn indicates that he started studying at Georgia Military College in 2020. In May 2020, he began identifying as an advanced electronics and computer sciences specialist with the US Naval Forces stationed in Great Lakes, Illinois.
In 2014, he played GTA Online using the nickname "Pr0xZombie", portraying an FBI veteran. In 2016, he posted a photo with the Russian flag, possibly taken during military exercises.
Bahiyyih Anderson is the mother of Simon Anderson (1, 2). Born on November 4, 1972, she worked in a cafe. On her Facebook profile, she lists her place of work as "City Cafe and Bakery"— similar to her son, Simon. This suggests that Simon may have worked in his parents' cafe. As per mylife.com, Bahiyyih identifies as a Democrat and a Christian.
Jeffrey Anderson is the father of Simon Anderson. He was born on July 21, 1962, and works in the engineering department at Lincoln Tech. Interestingly, he follows OSINTdefender on Twitter.
Evidence of Simon Anderson's involvement with the OSINTdefender account
In December 2021, the OSINTdefender account was registered under Simon Anderson. The administrator of the OSINTdefender Discord server goes by the pseudonym Leanandice. Interestingly, a YouTube channel named Simon Anderson reported since 2011, was found under this pseudonym. This channel features 53 videos and 25 short clips covering military affairs, NATO, Ukraine, Poland, Russia, and the USSR.
On Twitter, OSINTdefender lists a birth date of November 19 and a residence in Georgia, USA. This information aligns with details about Simon, who lived in Georgia (1, 2) until May 2022. Simon Anderson also has a Leanandice account on Snapchat, where his avatar features him dressed in a khaki suit. Additionally, it's worth noting that according to True People Search, only one Simon Anderson is residing in the state of Georgia who was born in November.
Simon Anderson's email address, [email protected], was found via his Facebook. This email is associated with the OSINTdefender account in the cash.app payment system. It was also discovered that Simon's father follows the OSINTdefender account on Twitter.
OSINTdefender mentioned that he served with ethnic Russians. In contrast, Simon posted photos from 2016 military exercises where participants held the Russian flag and "cosplayed" Chechen soldiers.
On Twitter, OSINTdefender interacted with users under the pseudonyms IntelDoge and IntelCrab. Interestingly, another administrator on the Discord server with a similar pseudonym - The Intel Hub#6127.
The facts presented indicate a close connection between Simon Anderson and the OSINTdefender account. Various evidence, such as email addresses, social media activity, and personal information overlaps, suggest a direct link between Simon's identity and the OSINTdefender account.
Details about the "OSINTdefender" account
This Twitter account identifies itself as an expert in open-source intelligence in Europe and conflicts worldwide. As Twitter indicates, the owner hails from Georgia, USA, and was born on November 19. The page was registered in November 2021. As of October 2023, the account has 866.4k followers, and most of the posts on this profile are retweets or reposts of news about conflicts in various regions.
The profile contains a link to a donation collection service — ko-fi.com, where, as of October 10, 2023, there were 770 charitable contributions. By October 18, 2023, the count was at 872 donations. The minimum contribution amount is $5. There's a list of the 10 most active patrons. There's also a link to Discord — an invitation from the user "leanandice" (we'll explain in detail who this is later) to the "The Defender Dome 🪖" server.
Leanandice (OSINTdefender) has been registered on Discord since September 29, 2016.
Elon Musk endorsed the OSINTdefender account. The social network owner "X" recommended following this Twitter account and @WarMonitors to track the war between Israel and Palestine live. After accusations of promoting unverified accounts, Musk deleted his post, but his responses remained.
What does OSINTdefender post?
Topic

Date

Date

Justifies Russians

March 2023

When a US Air Force MQ-9 drone

crashed

into the Black Sea near Crimea, temporarily occupied by Russians, OSINTdefender commented that he was "surprised the Su-27 didn't shoot it down, even though it was in international airspace". He also remarked that it would have been shot down if the USA was at war with a Pacific nation and an unknown drone flew towards Hawaii.

Disrespects Ukrainians

June 9, 2023

OSINTdefender called Paul Massaro a terrible person for posting a meme with GUR MO leader Kirill Budanov shaking hands with a shark (

referring

to the death of a Russian in Hurghada, Egypt, due to a shark attack). OSINTdefender noted that one shouldn't wish death on Russians because of their nationality and that he

served

alongside Russians, many of whom served in NATO forces. Likely, the photo with the Russian flag

posted

by OSINTdefender's author on FB in 2016 relates to his service.

Praises Russia

August 16, 2023

The Twitter account author, OSINTdefender, stated, "Russia is the only country (apart from Iran) capable of stopping Azerbaijan from wiping out all of Armenia."

Accuses Ukraine

June 25, 2023

OSINTdefender posted about how Ukrainian military officials supposedly use Nazi symbols.

Spreads Lies

March 16, 2023

Posted a video claiming to show the Ukrainian military surrendering to Russians near Gorlivka without citing a source. In response to comments that the video might be fake since the military on the video spoke Russian, he mentioned that almost the entire population of Ukraine speaks Russian.

Reposts Russian News

May 22, 2023

OSINTdefender posted about a blast in the Pentagon without verifying the information, publishing a photo of another building. Later, on

July 10, 2023

, he shared information about the $8 billion aid from the USA to Israel. This was later refuted. The tweet has yet to be made available as of October 2023. The author likely deleted it.
Admins and moderators of the "The Defender Dome" Discord Server
Leanandice — Co-Head. This is Simon Anderson's account.
The Intel Hub#6127 — Co-Head. Has the same account privileges as Leanandice. According to web.archive, the account was registered in May 2020, and its avatar displayed the words "OSINT," "AGGREGATION," and "ANALYSIS." In 2021, there were reposts (1, 2) from the Russian Twitter account MFA russia. From March to October 2022, the "The Intel Hub" logo had the colors of the Ukrainian flag, which were later changed to black and white. The Intel Hub listed a backup channel, Locked_Intelhub, blocked as of October 2023. The channel avatar indicates it's a "meme and satire" channel, and a pinned message read: "Who the hell let @The_IntelHub come back? He's a terrible Russian propagandist, dude."
Alex Thomas from Portland, Oregon, mentioned on his LinkedIn page that he is an editor and co-founder of The Intel Hub. According to web.archive, up until 2013, there was an American news site, theintelhub.com, that had news columns titled "POLICE STATE - GLOBALISM" and "WAR - TERROR & POLITICS," which was also associated with Alex Thomas (1, 2). However, the website's avatar does not match the Twitter account's avatar associated with OSINTdefender.
Dumnonianknight — Moderator. There's a Minecraft profile with the same username. This individual might be around the same age as Simon Anderson.
Saveyourwifi — Moderator. There's another Twitter account with a similar pseudonym, @Save_your_wifi. The profile mentions: "Interested in geopolitics, politics, and military affairs. I'm a big fan. Love to argue. Currently training to be a nurse" and that he's from a biolab in Ukraine. The avatar displays a dog in a laboratory. The account was created in March 2022. He reposts tweets with polls related to the war in Ukraine. The posts question Russia's guilt and aggression (1, 2, 3). There's also a TikTok account with the pseudonym @saveyourwifi and the name Xander. This individual might be approximately the same age as Simon Anderson.
Thechosenpie — Moderator. There's a Twitter account with the same pseudonym. He follows OSINT accounts and Ukrainian military accounts. At the onset of Russia's full-scale invasion of Ukraine, he posted messages supporting Ukraine. There's also a Steam profile with the same pseudonym and avatar.
Atata275 — Moderator.
.odda — Moderator.
The spread of Russian propaganda causes significant harm not only to Ukraine but also to democratic values worldwide. The OSINTdefender Twitter account consistently disseminates false information, misleading its audience. Many of his posts exhibit methods typical of Russian propaganda, such as "Whataboutism" (what about...?), emotional manipulations, and equivocation. While there's no direct evidence that this account operates in Russia's interests, its activity employs all the hallmark techniques of Russian propaganda. All this is facilitated with the endorsement of Elon Musk, who has long been on our register of pro-Russian propagandists.
Another tactic often employed by the Kremlin involves the so-called "useful idiots" — individuals who may not even realize they're unwittingly spreading disinformation. Therefore, regardless of who operates the OSINTdefender account, its activities align more with Russia's interests than with the ideals of democracy and freedom of speech.