This week, the prestigious international tennis championship, Wimbledon, is taking place. This year, Russian and Belarusian athletes were allowed to participate, although not under the flags of their countries. While they compete and sign advertising contracts with global brands, they must keep silent about their political positions, including the war in Ukraine. However, remaining silent for two weeks is not a strategy that helps them shed their harmful pro-Russian image. That's why Molfar OSINT-analysts decided to investigate the political positions hidden by Russian and Belarusian athletes, who use "political silence" as a cover, and how much tax revenue they contribute to Russia's "Shahed" program.
How Russians earn money to fund the war by playing tennis
Wimbledon Championships is one of the most prestigious tennis tournaments in the world. It is held annually in London, United Kingdom, on the All England Lawn Tennis and Croquet Club grass courts. It is one of the four Grand Slam tournaments, along with the Australian Open, French Open, and US Open.
The Wimbledon Championship has a long-standing history and a refined style. For instance, there is a tradition of sipping tea and indulging in "Wimbledon strawberries and cream" desserts. Furthermore, esteemed tennis players can perform on the Centre Court in front of thousands of spectators.
Russian tennis players were denied entry to the Wimbledon Championships last year. Nevertheless, they can earn a portion of the record-breaking prize pool now - £44,700,000 (almost $57 million). The Russians were given three conditions:
To maintain neutrality.
Not to express support for Russia's full-scale invasion of Ukraine.
Not to receive financial rewards from the state apparatuses of Russia and Belarus.
Russians find it not challenging to do so, especially considering the potential earnings involved, even if it is only for two weeks.
The criteria themselves raise questions. Among all Russian and Belarusian tennis players, only one person (we will reveal their name later) openly supported the Russian invasion. The rest of the Russian athletes are like slippery fish, effortlessly slipping away when specific questions are posed.
Let us point out that out of the 199 players, 61 tennis players (30%) competed in tournaments in Russia. 39 athletes maintained a neutral position towards Russia's full-scale invasion of Ukraine. 80 players (40%) continue to be members of the Russian Tennis Federation (RTF), whose Supervisory Board includes individuals under sanctions (we will provide further details about them below).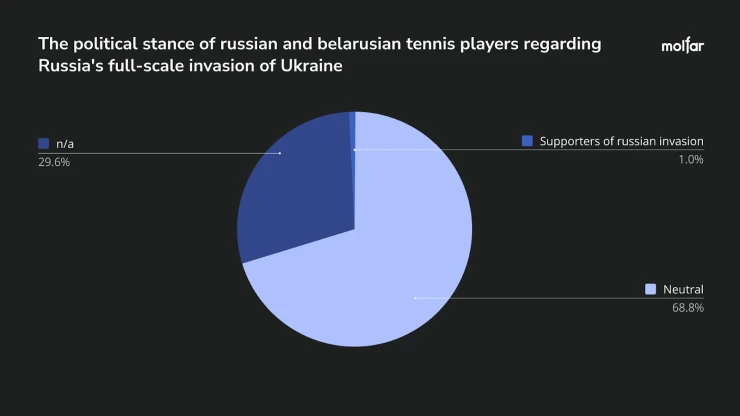 The majority of these tennis players either expressed a neutral stance or completely ignored the fact of Russia's full-scale invasion, not mentioning it publicly to their audience.
Why does it matter?
The silence about the war from Russian and Belarusian athletes seemingly creates a positive impression on global brands. They pay millions in endorsements for a successful Russian tennis player to post their photo with a Rolex on Instagram or compete wearing Nike or Lacoste branded apparel. Athletes pay taxes to the Russian or Belarusian treasury from these multimillion-dollar endorsements. And with these taxes, Russia buys weapons used to kill Ukrainians.
Now let's calculate the earnings of tennis players from Russia and Belarus based on the data obtained from open sources:
$10.4 m — is the total earnings of the top 10 tennis players from Russia and Belarus since the beginning of 2023.
$920k — the taxes paid by the Russian Tennis Federation in 2021.
$897k — represents the taxes and fees paid for the "VTB Kremlin Cup" and the "Kremlin Cup" by ATP in 2021.
‍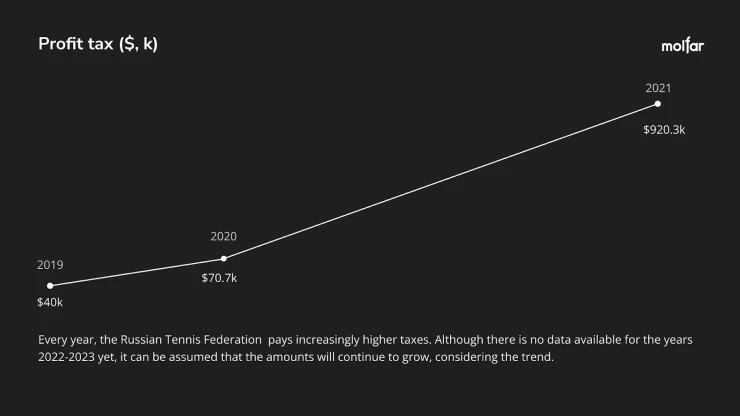 ‍
In this article, Molfar analysts have already revealed the cost of the "Shahed"-drones. Therefore, based on the amount of $920,000, it means that Russians would be able to purchase anywhere from 46 to 18 "Shahed-drones.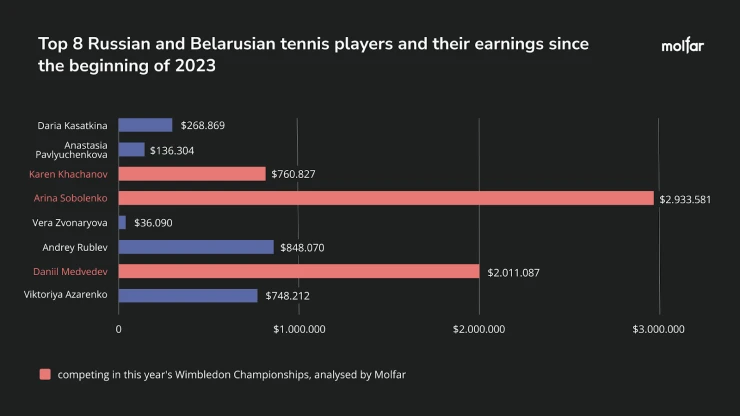 Let's look closer at the Russian and Belarusian participants of this year's Wimbledon.
Anastasiya Gasanova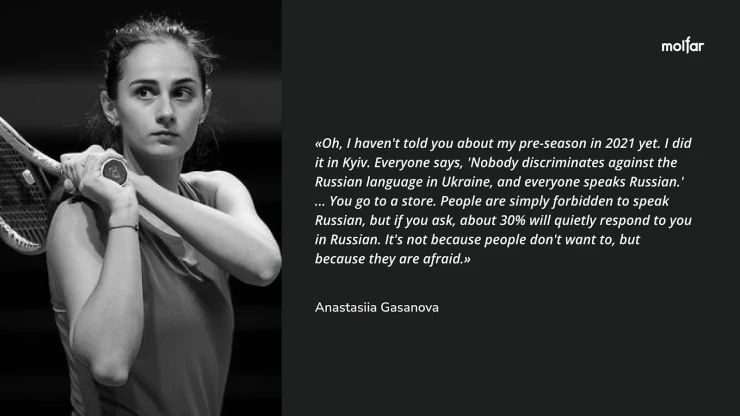 These are the words of one of the most successful Russian tennis players, Anastasia Gasanova. Yes, she has been allowed to participate in the Wimbledon Championships this year. Such sporting competitions come with financial rewards, signing advertising contracts with leading global brands, and making public statements.
Anastasiya Dmitrievna Gasanova (15.05.1999) was born in Saratov. She resides there during breaks between competitions and training. Since starting her tennis career in 2014, she has earned $402,690 in prize money from tennis tournaments.
However, not her remarkable victory or successful tournament has brought attention to this athlete, but rather her overt propagandist statements about Ukraine. In her inflammatory posts, everything follows a pro-Russian aggressive narrative: the Trade Unions Building in Odesa was reportedly set on fire by pro-Ukrainian activists, the Russian language was allegedly prohibited at the national level in Ukraine, and she claims that the "Azov" group has taken control of power.
Gasanova also complains that living and training in Ukraine became "uncomfortable" and "unhomely" after 2014. She had to leave because, for some reason, people started treating her poorly when she wore the uniform with the Russian tricolor.In 2021, Gasanova was granted entry to Ukraine. However, she continues to express discontent with the use of the Ukrainian language by everyone in public establishments in Ukraine.
In the intricate web of political connections sits Svitlana Gasanova, the mother of tennis player. According to insider information, Gasanova senior has worked as a coach in several state institutions, including the "State Budgetary Institution of Additional Education of the Saratov Region' Sports School of Olympic Reserve 'Olympic Rackets'" and the "N.N. Ozerov Tennis Academy". Her closest circle of colleagues includes politicians. Moreover, the "N.N. Ozerov Tennis Academy" director is Anton Knyazev, a deputy of the Ryazan Regional Duma representing the "Yedinaya Russia" political party. So, Gasanova has close ties with the Russian political elite.
Gasanova is also a co-founder of the organization "Saratov Regional Public Sports Organization' Tennis Federation of the Saratov Region'." She collaborates with Pavel Vladimirovich Bolshedanov, a former deputy of the "Yedinaya Russia" party.
Social media: VK, VK2 (Del, archive, friends), Inst
TGid: 493538640
Daniil Medvedev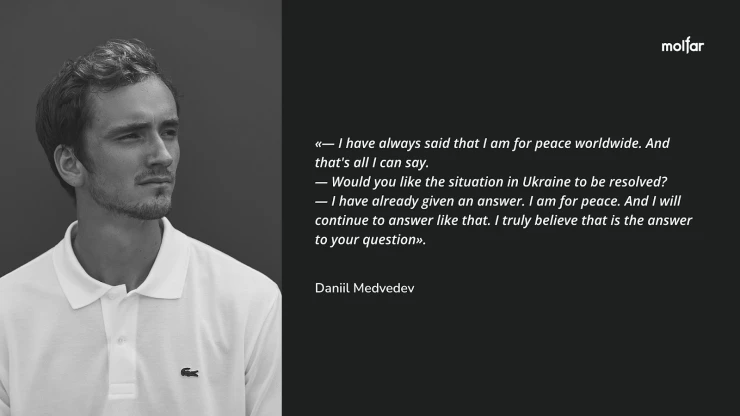 This is a statement from another Russian tennis player, Daniil Medvedev, participating in this year's Wimbledon Championships.
Daniil Sergeyevich Medvedev (February 11, 1996) was born in Moscow but currently resides in Monte Carlo, Monaco. Throughout his professional tennis career, which began in 2014, he has earned $28,611,469, $2,011,087 Medvedev earned since the beginning of the 2023 year.
Daniel, as you can see, claims to strive for peace but conveniently avoids discussing the topic of war. He hasn't even dared to say "smo" ("special military operation", which actually means full-scale war), as is usually preferred in Russia. His position seems more like a powerless manipulation. Perhaps Danili is simply afraid of losing numerous brand contracts or being disturbed by leaving Monaco. However, Medvedev had significant ties to Russian business and government. In 2019, he entered into a sponsorship contract with the controversial Tinkoff Bank, which was crucial to his wealth. In 2021, his income from the bank amounted to $305,000. In May 2023, there was no notable activity from Daniil related to the bank. In April 2023, Medvedev claimed to have refused sponsorship from Russian entities. Still, we have to find an actual confirmation of this yet. Currently, his statements in the media have become rare occurrences. It could be a strategic shift or an attempt to divert attention from the situation.
Thank you for providing the additional information. The sentence "While Daniil shares his dreams of 'peace on Earth' with journalists, his wife Daria Medvedeva (Chernishkova) is busy setting up a business — since 2021, she has been a co-founder of the legal entity 'ROKYU FOODS.' According to LinkedIn, this company sells buckwheat snacks and has a branch in the United Kingdom. Daniil's father, Sergey Yakovich, reportedly holds dual citizenship — France and Russia.
The presence of company branches in the United Kingdom, the French citizenship of his father, and collaboration with influential Western brands are likely factors that compel this athlete to remain silent. His neutrality is more likely enforced, as it benefits Medvedev to hold his tongue to continue working with brands such as Lacoste, Bovet, BMW, HyperX, and others, earning thousands of dollars.
Relatives:
— Daria Illivna Medvedeva/Chernishkova (Дар'я Іллівна Медведєва/Чернишкова) (born on February 23, 1996, FB) - wife.
— Sergei Yakovych Medvedev (born September 21, 1950 - father
— Olga Vasilievna Medvedeva (July 23, 1961) - mother
— Yulia Sergeyevna Turchaninova (born on February 3, 1984, VK) - sister,
— Olena Sergiivna Puliken - a sister.
Karen Khachanov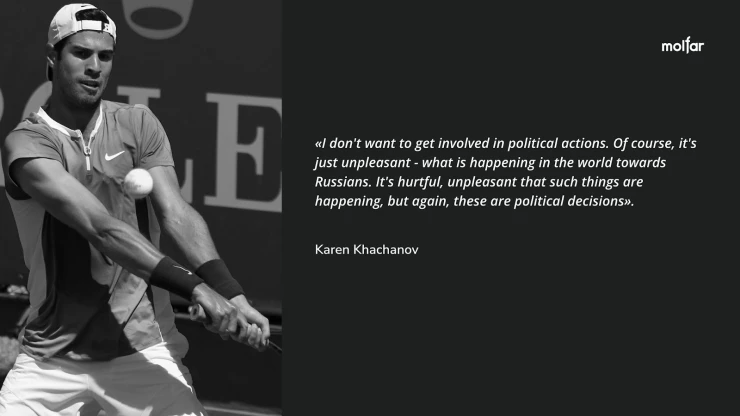 These are the words of the Russian tennis player participating in this year's Wimbledon Championships.
Karen Abgarovich Khachanov (May 21, 1996) was born in Moscow but currently resides in Dubai, UAE. Throughout his 10-year professional career, he has earned $12,997,271, with $760,827 earned in 2023 alone.
As you can see, he is not satisfied that "Russians are no longer loved." It appears that Khachanov has forgotten the reasons behind this hostility. Maybe he missed the news about the death of a girl named Katerina Dyachenko from a Russian airstrike in her home. To him, it seems like a "political decision".
Khachanov is connected to influential individuals in Russia and Belarus. The foundation of his sponsorship relationships lies in his contract with VTB Bank, under EU sanctions since 2014. Since 2022, it is also included in the US sanctions list. This bank also sponsors the ATP/WTA tennis tournament held in Moscow. The same financial institution sponsors Russian national teams in volleyball, artistic gymnastics, and other sports structures.
Apart from sports connections, it is worth noting the person behind Khachanov's initial sporting "successes". It is his uncle, Alexander Leonidovich Zayonts. He is a businessman and the founder of the furniture store chain "Hoff" in Russia and the IT company "Hoff Tech." According to an interview, Alexander Zayonts was the first sponsor of Karen Khachanov. In 2015, Zayonts created his tennis tournament called the "Challenger" Hoff Open in Russia. Karen Khachanov participated in this tournament. As of 2019, Zayonts remained an advisor to Karen's team.
If we consider Khachanov's statements alone, he has completely distanced himself from politics. He does not feel any responsibility for the actions of his country. However, his opinion can change in certain situations, and he may take a "political stance," as in 2023 during the Australian Open tournament. Traditionally, winners of major tournaments can write a short message displayed to viewers at the end of the broadcast. After the third round of the Australian Open, Khachanov wrote on camera: "Artsakh, stay strong!!!" and after the fourth round, he wrote: "Keep believing and fighting until the end. Artsakh, stay strong!" (1, 2, 3). At that time, a conflict erupted between Azerbaijan and Armenia in the Nagorno-Karabakh or Artsakh region. Khachanov himself has Armenian roots, although he was born in Moscow.
Karen Khachanov's social media: VK, FB, Inst, TW
Relatives:
— Veronika Kudermetova / Khachanova — Karen Khachanov's wife, they have a son named David (born on September 14, 2019.
— Abgar Rudolfovich Khachanov — father;
— Natalia Valeriyivna Khachanova (02.10.1972, VK) — Mother, professor of the Department of Neurology, Neurosurgery, and Medical Genetics at the N.I. Pirogov Russian National Research Medical University, and a doctor at Moscow City Clinical Hospital No. 24.
— Khachanova Margarita Abgarivna (February 24, 2001, VK, Inst) - sister, she is a student at the Financial University under the Government of the Russian Federation. On Instagram, she states she works as a "PR specialist" and lists the mobile telecommunications company "MegaFon" among her clients.
— Khachanov Georgiy Abgarovich - younger brother
— Zayonts Alexander Leonidovich (January 10, 1967) - uncle, husband of Abgar's biological sister.
Arina Sobolenko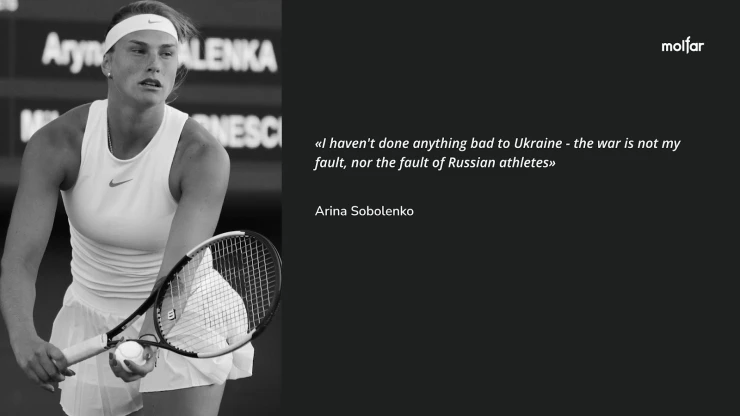 Nevertheless, Arina Sobolenko, the Belarusian tennis player, hasn't made any positive contributions to Ukraine either. She chooses to remain silent about the war, is involved with a pro-Russian hockey player, and claims she is tired of shouting about it 'on every corner.
Arina Sergiivna Sobolenko was born on May 5, 1998, in Minsk, where she currently lives. She began her professional career in 2015 and has earned $15,108,491 in prize money throughout her professional tennis career and $2,933,581 since the beginning of 2023.
Arina is a favorite of the self-proclaimed president of Belarus, Lukashenko. He cannot contain his emotions and often comments on the Arinas' performances (1, 2).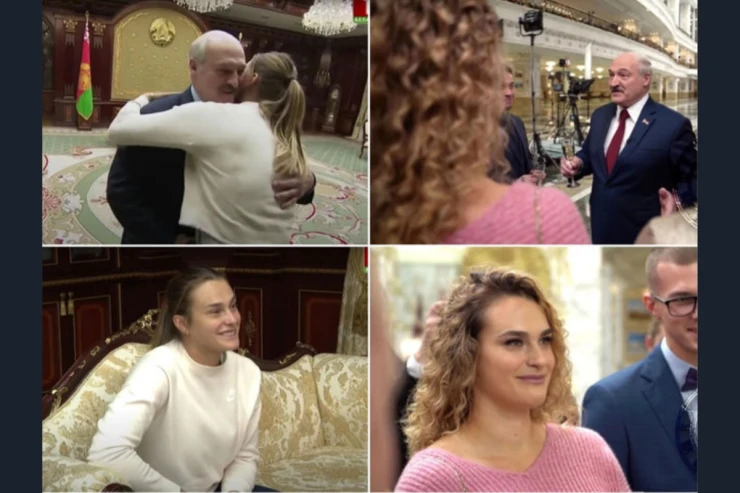 Their relationship was harmonious for a long time. In 2018, Arina requested a meeting with the Belarusian dictator, who praised her sporting achievements. Following her victory in the WTA-1000 tournament in Madrid, the self-proclaimed president once again personally greeted the tennis player. In 2019, Sobolenko claimed that Lukashenko was a member of her team. However, everything changed. In April 2023, the tennis player declared that she was indifferent to Lukashenko's remarks and had no connection to politics.
Arina's actual political views are evident from her close circle. Her boyfriend, former hockey player Konstantin Koltsov, is a case in point. In 2020, he was among the signatories of a "pro-government letter" that called for an end to political agitation against athletes and emphasized the separation of sports from politics. However, this stance didn't prevent him from being an outspoken supporter of Lukashenko. (1, 2, 3).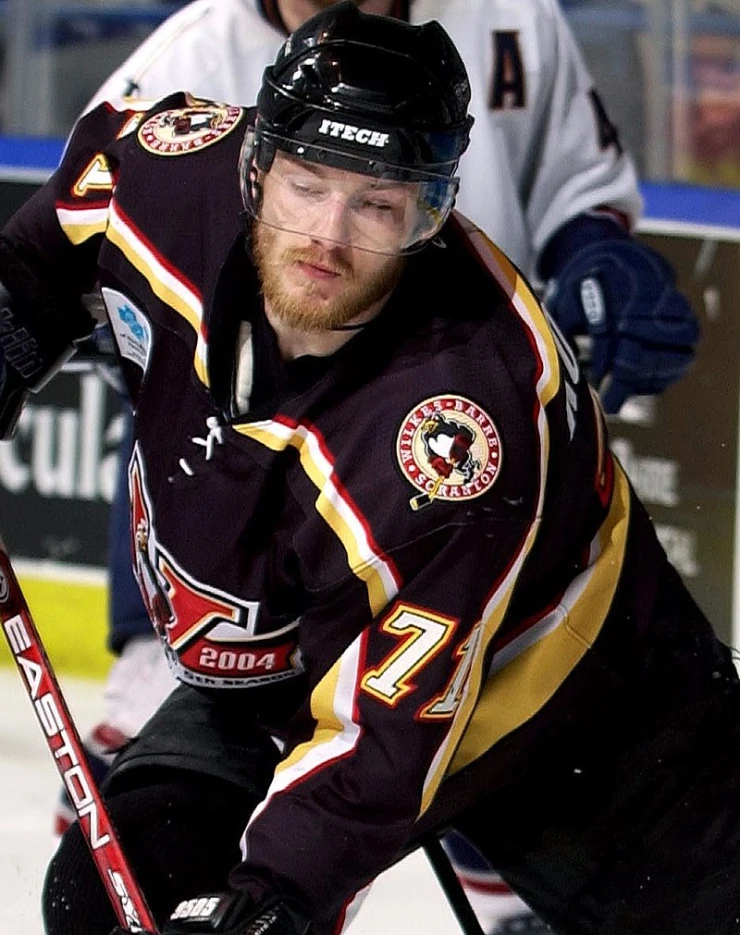 — Konstantin Yevgenyevich Koltsov (April 17, 1981). Inst skype://live:koltsi71, Passport (BY): МР1902992, Passport (RU): 8005467815) - Arina's boyfriend.
He had no issues aligning himself with the Russian military aggression against Ukraine. During a hockey match between the "Salavat Yulaev" and "Sibir" clubs in Ufa, Koltsov, along with the club's leadership and local authorities, demonstrated their support for the Russian army by displaying a banner featuring the letter "Z" and an image of a soldier embraced by the club's emblem, "Salavat Yulaev."
Let's explore the complex web of sponsorships surrounding tennis player Sobolenko. Alexander Vasilyevich Shakutin has close ties to Lukashenko. He assumed the role of Chairman of the Belarusian Tennis Federation from 2012 to 2017, conveniently replacing Vladimir Piatkevich, who had been subjected to EU sanctions. Shakutin facilitated the introduction between the athlete and another sponsor, Sergey Pisarchuk. According to analysts at Molfar, Sergey Viktorovich Pisarchuk is a Russian businessman who holds a position in the Innovation Projects Department of PJSC "NOVATEK," the largest natural gas extraction company in Russia. Until 2017, he served as the head of the "Gazpromneft-Sakhalin" project, a joint venture with Gazprom. Another sponsor of the tennis player is Sergey Semenovich Teterin. Media sources have identified him as a close associate of Lukashenko dating back to the 1990s (1, 2).
Among the sponsors of this tennis player are influential brands like Wilson, a manufacturer of sports apparel and accessories for tennis; Nike, a renowned sports apparel brand; and Whoop, a developer of fitness smartwatches. These commercial partnerships indicate why Sobolenko is careful with her political expressions. The "neutrality" of this tennis player raises substantial doubts. It is more likely shaped by the influence of sponsors who want to avoid political risks and preserve commercial appeal.
Arina Sobolenko's family:
— Sergei Sobolenko (September 13, 1976) - father, passed away in 2019;
— Yulia Sobolenko (April 24-25, Inst) - mother;
— Antonina Sergiivna Sobolenko (February 12, 2006, VK, Inst) - sister.
Sport and Politics: Why They Cannot Be Kept Apart, Especially in the Russian Context
The Federation of Tennis of Russia (FTR) represents a complex network of connections between politics, business, and sports. For instance, Vladimir Dmitriev serves as the Chairman of the Supervisory Board of FTR. The individuals within this Supervisory Board accumulate profits, and power and influence over the institution are concentrated in their hands. This individual also sits on the Board of Directors of Gazprombank JSC, known for its ties to the Russian military - through this bank that pays salaries to the Russian military. Is sport still outside the realm of politics?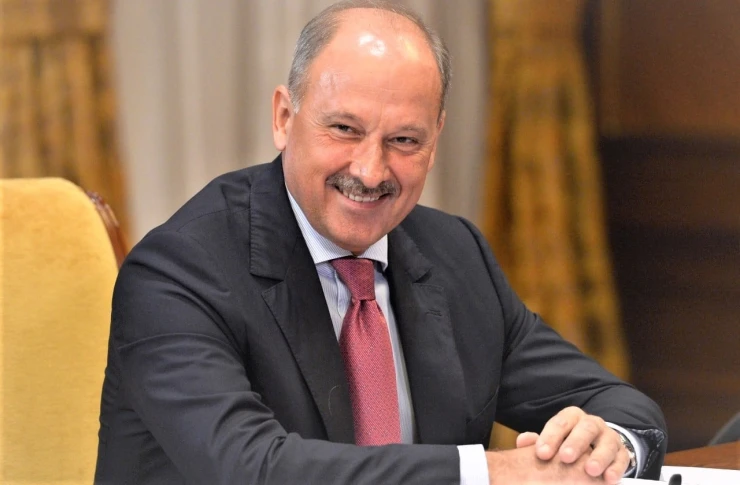 Side by side with him is Konstantin Zatulin, an RTF's Supervisory Board member. He carries the title of deputy in the "Yedinaya Russia" party. Furthermore, he serves as a special representative of the State Duma on migration and citizenship issues. He is the First Deputy Chairman of the Committee on CIS Affairs. Essentially, he is deeply entrenched in Russian politics. Sanctions have been imposed on him (1, 2).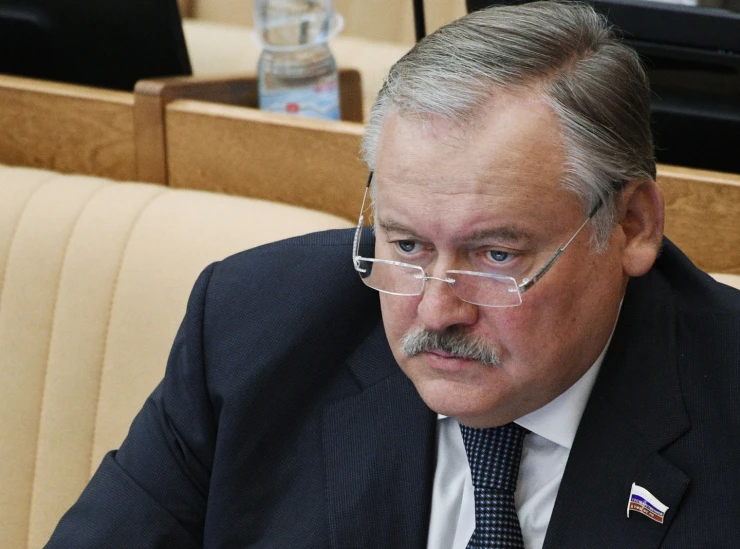 Zatulin endorsed ratifying the "Treaty on Friendship, Cooperation, and Mutual Assistance" between the Russian Federation and the unrecognized "dpr/lpr" entities.
Here's what he said:
"...the necessity of recognizing not only the 'lnr and 'dnr,' but also other territories that have ceased to be Ukrainian. I believe that it should not stop there — Odesa, Mykolaiv regions, and others should also receive support from Russia".
Referring to the annexation of Ukrainian territories by Russia, he stated:
"Now that we are involved in this matter, we must regain what belongs to us: Novorossiya, everything concerning the Black Sea region, and Eastern Ukraine".
‍
In July 2022, a tennis tournament named "Большая бескозырка - Своих не бросаем" (Big No-Hat — We Don't Abandon Our Own) took place in the Russian-occupied Crimea. Konstantin Zatulin organized that event. The letters "Z" were prominently displayed on all sports attire and banners at this event. Among the sponsors of the "Bezkozyrka" tournament were companies associated with the Russian military and the occupying authorities in Crimea, including the Russian Black Sea Fleet, the occupation leadership of Crimea, and Russian companies "Rostech" and "Rosoboronexport."
The entire Russian tennis community seems closely intertwined with funding and direct support for the armed aggression against Ukraine. Russian tennis players compete in the Wimbledon Championships, swinging their rackets. At the same time, Ukrainian homes are attacked by "Shahed"-drones and "Kalibr" rockets.
250 Ukrainian athletes were killed by Russians
The non-exclusion of Russian athletes from international sporting events this year is generating justified discontent. Presently, these Russian tennis players have the opportunity to travel freely across the globe, promoting their ideas of sports neutrality in any civilized nation.
In contrast, Ukrainian athletes often face obstacles when participating in international arenas and representing their country. According to data from the Ministry of Youth and Sports of Ukraine, around 3,000 athletes currently serve in the Ukrainian Armed Forces. Some Ukrainian athletes have made the ultimate sacrifice while defending Ukraine. As reported by "УП" (Ukrayinska Pravda), as of March 2023, 250 athletes and coaches have been killed. 16 athletes have been wounded in combat, 28 are held captive, and 6 — are considered missing.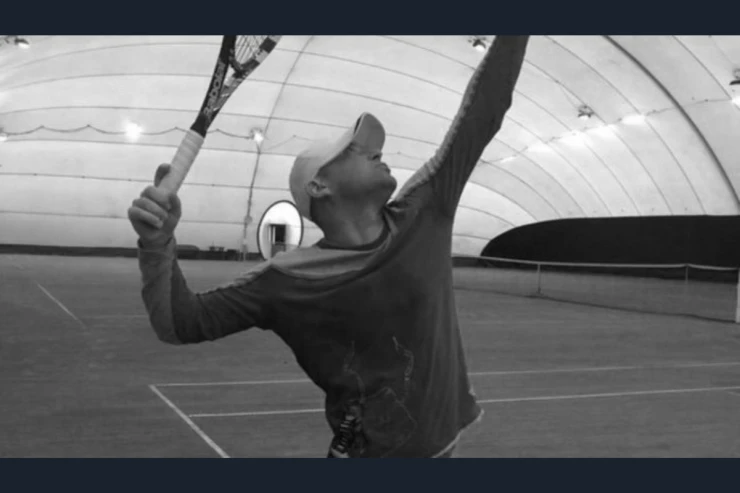 Ukrainian athletes also lose their lives on the battlefield while defending our country. Kyrylo Vasylyshyn, a Ukrainian tennis coach, tragically lost his life near Bakhmut this year. Former Ukrainian tennis player Oleksandr Dolgopolov confirmed the death of Kiryl Vasilyshyn, expressing condolences to his family.
"Today, I learned that a coach who worked with me and our group with my father when I was a child died defending Ukraine. In the Bakhmut area, where I was 3 days ago. Madness. F**k Russia. Eternal memory to my friend" — Alexander Dolgopolov, a tennis player, said.
Russian athletes stay silent as the Ukrainian sports community endures these tragic losses. They do not see themselves as at fault; they advocate for "an eye for an eye" and "the ends justify the means". Some even openly support Russia's military aggression. Suppose you think these individuals are banned from the civilized world. In that case, you are mistaken because you will have a chance to see them at the prestigious Wimbledon Championships in 2023.