International criminal Igor Strelkov (Girkin) was arrested in Moscow on July 21, 2023. His wife, Miroslava Rehinska, confirmed this info. Russian media reports the detention of Girkin allegedly based on a Statement by a former "Wagner" PMC employee.
Girkin has repeatedly criticized Russian President Vladimir Putin for his "wrong" conduct in the so-called "war" and advocated for the necessity of a "general mobilization in Russia for victory." Molfar analysts had published an article about the administrators of the "Russkaya Vesna" website, which belongs to Girkin
Now it's time we talk about Girkin's wife. Miroslava Reginсka's biography resembles a cheap Russian movie about gangsters from the 90s: she worked in escort services, married a "promising" (according to her father's opinion) man, and then engaged in looting Russian humanitarian aid for the unrecognized "DNR" and stealing fur coats.
Who is the wife of an international criminal accused of killing dozens of people, including being involved in the downing of Malaysian Boeing MH-17? Molfar's publication presents her as a character straight out of a noir thriller: a woman entangled in the dark web of crime, associated with a notorious figure.
Miroslava Reginska. Who is she?
Despite various versions of her birthplace, she is associated with the Donetsk Oblast, specifically with the cities of Toretsk (formerly Dzerzhinsk) and Artemove, where she is believed to have been born. However, Miroslava received her primary education in Russia at School No. 66 in Ivanovo. Later, she studied at Ivanovo State University. In 2014, Reginsskaia enrolled at Rostov State University of Economics (RSUE) to study "Organizational Management."
During her first year at the university, she started working at a nightclub in Donetsk. However, after the so-called "referendum," she began seeking employment as a secretary. She managed to secure a position with one of the advisers (presumably, it was Sergey Dmitrovich, known as "Morachok") in the "Office of the Council of Ministers of the DPR." At that time, her phone was listed as "Myroslava Secr. Serg. Gruzyn Dnr." According to her biography, working as a secretary, she had to be protected and escorted to and from work, as previous secretaries had been targeted for kidnapping. It was during this period that she met Girkin.
It is rumored that her father Sitolenko introduced Girkin to Reginska, whom he saw as "promising." In August 2014, she fled from the unrecognized "dpr" to Moscow with her new husband. Just a few months after the escape, Miroslava became an employee of the apparatus of the leader of the "Novorossiya Social Movement" Igor Strelkov (ODN). Girkin was heading this movement. In December, Miroslava announced their wedding and claimed they were already married. However, according to the court case, they officially married at the Registry Office in February 2015. After the wedding, she kept her maiden name.
Miroslava travelled to the Rostov region but was not allowed back to the non-existent "dpr" due to Girkin's orders. He was concerned about the fate of his newlywed wife because there was a "coup" in the unrecognized 'DNR' in August 2014: Alexander Borodai, the head of the Council of Ministers of the unrecognized "dpr," resigned, and Alexander Zakharchenko took his place. So, she returned to the occupied Donetsk Oblast with the "Vostok" battalion, led by the former head of the "Alpha" special forces unit in the SSU of Donetsk Oblast, Alexander Khodorkovsky. The battalion's participants included Russian military personnel from the Ground Forces.
This duo, it seems, turned out to be financially lucrative - their wealth grew as they promoted the idea of "assisting the unfortunate residents of Donbas."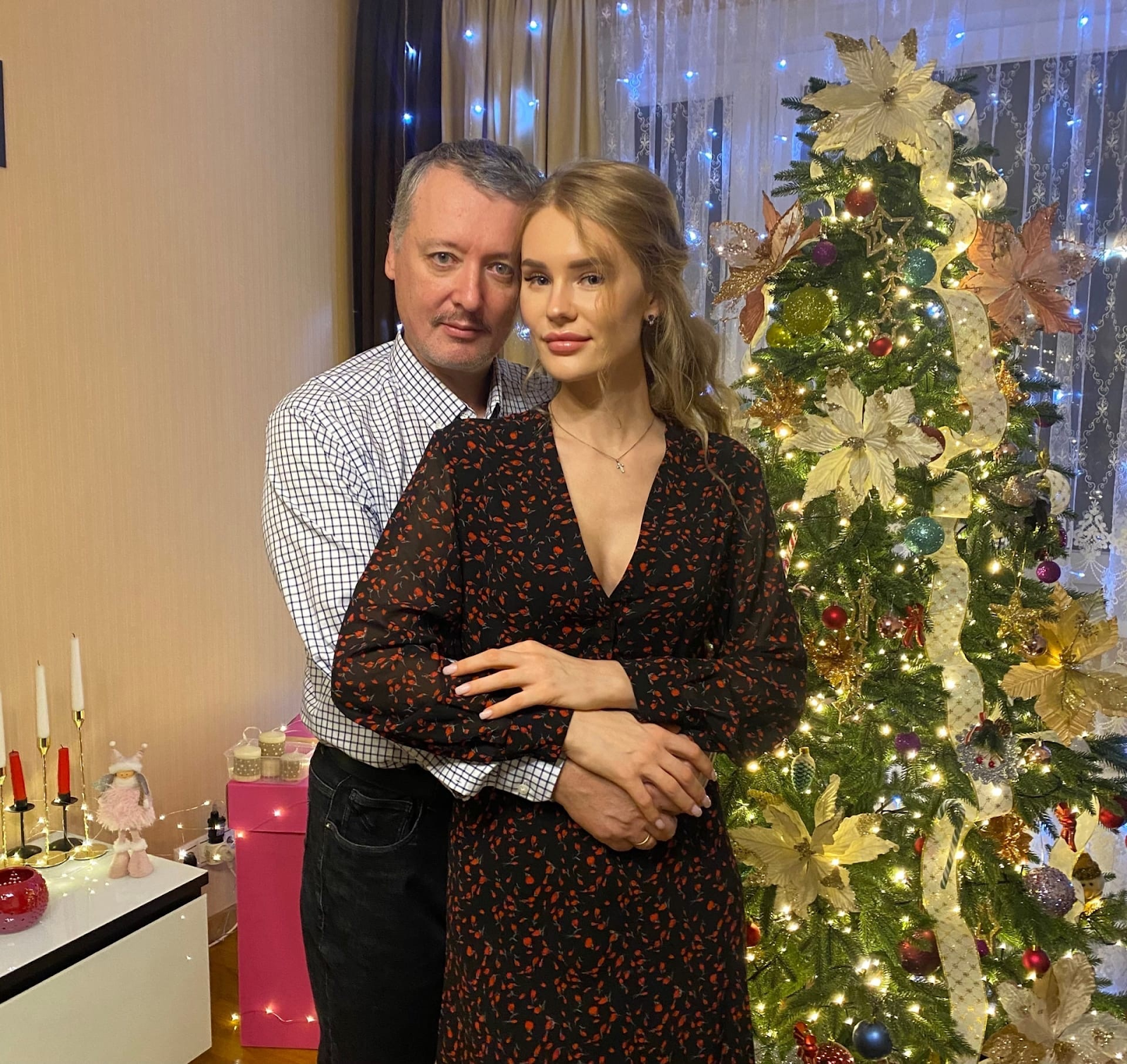 Humanitarian heists, pillaged culture funds, and anti-vax antics
After marrying the "promising" Girkin, Miroslava found herself occupied by managing the VK social media group "Yamal Donbasu," where they collected funds for humanitarian aid. She also engaged in fundraising for the "Dobrorussia" foundation. By October 2015, the foundation members accused Miroslava of embezzling humanitarian help.
On the "ODN" website, Miroslava is listed as the head of refugee assistance. And from 2016 onwards, she received a promotion as the head of "The Women's Council" ("Zhensovet") within Girkin's "ODN."
Her trip to Moscow seemed fruitful as by 2020 and 2021, Miroslava received (1, 2) $7k from a production centre founded by the Moscow Department of Culture. However, in 2021, she had to search for a job again as she was dismissed from her previous one for refusing to get vaccinated. In the same year, the wife of Girkin received $1848 from CJSC "KB 1" (JSC "KB 1") — a subsidiary of PJSC "Almaz," which manufactures radio-electronic and computer equipment for space.
Allegedly, Reginsska is rumored to have worked in the escort industry. But the most widespread talk centres on her alleged ongoing participation in embezzling humanitarian aid. Miroslava has been organizing fundraising campaigns on her social media pages since 2014 but needs to provide reports on how the funds are utilized. This raises questions as she does not seem to have a stable job yet poses in expensive dresses, embracing her husband Girkin, and arranges lavish birthday parties for her daughter. In 2014, she faced intense criticism for the embezzlement accusations. Consequently, she created fake VK pages and wrote comments defending herself and her lover Girkin.
The wife of "promising" Girkin: a legal battle over an apartment in Moscow with his ex-wife
According to a VK group, they refer to Myroslava as an "escort" and accuse her of embezzling funds from humanitarian aid for the "dpr," which she has been organizing on her social media pages since 2014. The group justifies this claim by pointing out that Myroslava hasn't provided any reports on the funds raised since 2014. Additionally, they criticize her for being without a stable job, appearing in expensive dresses, and organizing lavish birthday parties for her daughter alongside Girkin.
In 2014, she intensely disliked criticism regarding the embezzlement of humanitarian aid. As a result, she created fake VK pages and wrote comments defending herself and her lover Girkin. According to a court case in 2014, Myroslava's phone number (+79060337425) was involved in a group criminal offence related to forming illegal armed groups in the Donetsk region. A detective requested access to calls and SMS messages made from her number from the telecommunications operator, and the judge granted the request.
It seems that Myroslava didn't believe much in the existence of the coronavirus, as in addition to being fired for being an anti-vaxxer in August 2021, she faced administrative liability for not complying with the self-isolation regime. The violation was captured on a street camera, but administrative protocol still needed to be drawn up. As a result, she was fined 4,000 rubles. However, she wasn't pleased with this outcome. The following month, she appealed to the court to have the fine canceled. The court granted her appeal, as Russian law does not provide for the use of automatic recording for such offences.
Before Reginska, Girkin had a previous wife, Vera Nikitina, and her children. However, it wasn't about a 4,000 rubles fine but rather an apartment in Moscow. In 2019, Myroslava filed a lawsuit requesting that Girkin's ex-wife and her children be removed from the registration at the Shenkursky Proyezd, Building 8B, Apartment 125 apartment. In April 2019, the court partially granted her lawsuit. Both parties filed appeals, but the decision remained unchanged.
In May 2022, Myroslava filed a lawsuit against Andriy Girkin, seeking to terminate his right to use the residential premises and remove him from the registration. However, in November 2022, Reginsskaia withdrew the lawsuit.
As of February 2023, three enforcement proceedings opened against Reginsskaia in Ukraine to recover outstanding utility payments (1, 2, 3). These proceedings were initiated in 2020 and 2021. Due to this, the beloved wife of the "promising" Girkin is currently listed in the Unified Register of Debtors.
In February 2023, Miroslava posted about her friend, Boriak Oleksandr Vasylovych, who allegedly gifted 21 fur coats to the mothers and wives of Russian service members who died. She claimed to have organized the delivery of the coats (1, 2, 3). However, later those fur coats (1, 2) were removed from the women. It was explained that there was a mix-up regarding who was supposed to receive the fur coats, and also, the coats were of "inadequate quality." The fur coats were purchased from the Moscow store Sobol Luxury, owned by Miroslava's friend, Boriak Oleksandr. Miroslava denied all the allegations. Some media outlets reported that these were actually fur coats taken from Kherson and given to the widows. However, this information has not been confirmed.
Deanonymization. Personal data of Miroslava Reginsska, wife of Igor Girkin
Passport of a Ukrainian citizen:
Passport: VK 692219, TIN: 3422804549;
Passport of a Russian citizen:
Passport: 4518970114,
TIN: 772091899728,
Residence permit in Russia: 82 0940646 (Expired),
SNILS: 192-415-467 74;
FB, Inst, Inst2 (deleted), YT, VK, mira.mira93@ya.ru, mira.mira93@yandex.ru, mirka_17@bk.ru, mirka_17@yandex.ru, +79652377305, +79051097731, +79060337425, skype: live:mira.mira93, live:mira.mira93_3.
According to the insider, in 2016, she owned a Mitsubishi Pajero Sport of the 2007 model year (photo, license plate T504PE777, VIN JMBOCK9607J002749). Possibly, it was sold to Kirill Volodymyrovych Romanov in 2017.
She has cards in Sberbank of Russia (1, 2), the number of one of them: 4276 3802 5570 4293;
Donetsk Oblast, Artemove (Zalizne), Lomonosova Street 35, Flat 25.
- Ivanovo, Kudryashova Street, building 80, flat 244 — presumably, the residence of Yana, Miroslava's younger brother.
- Moscow, Khersonska Street, building 19, flat 65 – the address in 2015 where they lived together with Girkin.
Habits and hobbies:
Property:
Daughter's Apartment, Uliana Girkina
Address: Moscow, Shenkursky proezd, building 8B, apartment 125
Size: 32.1 sq. m
Estimated value: $61,500
Details: According to an insider, she has lived here since March 2018 and registered in December 2018. The apartment initially belonged to Girkin but was transferred to Uliana, his daughter, in December 2018. As of September 2019, the apartment served as Miroslava's permanent residence.
Apartment of Igor Girkin, husband
Address: 3-a Yuzhnaya Street, Building 4A, Apartment 9, Ivanovo
Size: 58 sq. meters
Estimated value: $111,200
Details: According to the SBU (Security Service of Ukraine), he was registered at this address in 2014, and the apartment's owner has stayed the same since 2008, so it likely still belongs to Igor Girkin.
Apartment of stepfather, Emanuel Rabayev
Address: 3-a Yuzhnaya Street, Building 4A, Apartment 9, Ivanovo
Size: 91,8 sq. meters
Estimated value: $113,900
Details: According to an insider, as of 2022, this address is indicated in the database of the Federal Bailiffs Service as the address of Ludmila Rabayeva and Yana Reginksiy (1, 2, 3). The apartment's owner has not changed since 2010, so it likely belongs to Emanuel Rabayev.
Apartment of the brother, Yan Reginsskiy
Address: Kudryashova Street, Building 80, Apartment 244, Ivanovo
Size: 60,4 sq. meters
Estimated value: $58,100
Details: Likely, this is his rented apartment. He ordered delivery to this address in 2021.
Apartment of the Bocharov family
Address: Moscow, Letchika Babushkina Street, Building 32, Block 1, Apartment 68
Size: 81.6 sq. meters
Estimated value: $179,800
Details: According to the insider, in 2020, Miroslava indicated this apartment as her residence. She also posted photos of her daughter near the same building in 2021. The apartment is located on the 18th floor. The right to resell the apartment is likely restricted, as the property received a government loan.
Apartment rented by Girkin
Address: Moscow, Shturnalna Street, Building 10, Apartment 46
Area: 44.6 sq. meters
Estimated value: $92,500
Details: According to the insider, Miroslava's number +79051097731 is linked to this address. The apartment is located on the 12th floor.
Family of Miroslava Reginska
Daughter
Ulyana Igorivna Girkina, born on August 11, 2016 - is a child. Engaged in gymnastics.
Father
Sitolenko Serhiy Hennadiyovych (call sign "Sitii"), born on June 9, 1970 – March 23, 2022 (VK, OK).
Passport (UA) VS 488127, TIN: 2572717375.
Died from a sniper shot in 2022 near Avdiivka, holding the rank of sergeant.
Mother
- Reginska Liudmyla Anatoliivna, born on November 6, 1972, VK, Inst, Inst2, FB
TIN: (Ukraine): 2660804806
TIN: (Russia): 370206800677, residence permit in Russia: 82 0998418
Passport (Ukraine): VA 988829
Passport (Russia): 2419984867
Ukraine has an ongoing enforcement proceeding against her for unpaid utilities. In Zalizne, Donetsk Oblast (formerly Artemove), she resided at Lomonosova Street, building 35, apartment 25.
In Russia, due to debt, there was an enforcement proceeding against Liudmyla in 2019. According to court records, she resides at the address: Ivanovo, South 3rd Street, building 4a, apartment 9.
According to insiders, she works for her husband Rabayev
Stepfather
- Rabayev Emmanuil (Ivan) Yurievich, born on June 29, 1977
Social Media: YT, Inst1, Inst2, Inst3, OK, Mой мир
Email: yr.m5@yandex.ru, relax-tex@mail.ru
Phone: 79158278222
Passport: 2420 032164
Residence permits in Russia: 82 1550483, 82 1493018
Tax Identification Number (Russia): 370210567046
Social Security Number (Russia): 156-486-565 09
He is Liudmyla's second husband. Born in Azerbaijan, a Hussar. According to insiders, he has a criminal case.
Sister
- Reginsska Polina Emmanuilevna, born on March 5, 2009
Birth certificate: IF0649198
Residence permit in Russia: 82 1000029
She is studying at Ivanovskaya School No. 56. She Engaged in artistic gymnastics and performed in the group all-around for the Ivanovskaya team "Akvamarin." In November 2020, she participated in the all-Russian online competitions in artistic gymnastics, "Cup OFSOO Rus" and "Krasa Rusi", holding the first junior rank. In September 2021, she participated in the all-Russian competitions "For the Prizes of Olympic Champion, Master of Sports Olga Glatskikh" and "Sudarushka", holding the second junior rank. (1, 2, 3).In September 2021, she participated in the all-Russian competitions "For the Prizes of Olympic Champion, Master of Sports Olga Glatskikh" and "Sudarushka", where she held the second junior rank. (1, 2).
Brother
- Yann Reginsky, born on April 20, 2001.
Social Media FB, FB2, VK, Inst
yanreginsky@yandex.ru
Phone: +79997300063
Skype: live:.cid.e6c03bb318f051f1
Ukrainian Tax Identification Number (ІПН): 3700003457
Residency permit in Russia: 82 1000028
Passport (Russian Federation): 2419 980444 (expired), 2421 041951
Russian TIN: 370254981896
Studied at Sports School No. 9 in Ivanovo. He professionally practiced karate and participated in all-Russian competitions in his age category (1, 2, 3). At the time of university enrollment and opening his Russian Tax Identification Number, he did not have Russian citizenship (1, 2) but likely obtained it in February 2020. According to insider information (1, 2), two enforcement proceedings were initiated against Yann for an outstanding debt amounting to $300.
Grandmother
- Svitlana Hryhorivna Reginska, born on June 24, 1950.
Phone: +79661002933
Passport: BE 993171, Ukrainian TIN (ІПН): 1843706087.
Registered at the same address in Ukraine as Miroslava. Likely worked at a city hospital, possibly in Zalizne, Donetsk Oblast (before 2016 - Artemove). According to insider information, she is registered at the same Moscow address as Miroslava. In June 2020, Miroslava ordered a cake from a Moscow confectioner with a "Happy 70th Birthday" note. To our beloved mom and grandmother." In 2016, she advertised on Avito to sell baby clothes in Moscow.