Six months ago, the Molfar OSINT community analyzed how Ukrainians' music preferences changed during the first six months of the full-scale war. Today, we offer you updated data for the last six months: with graphs and dynamics.
Molfar in social networks 👉 Molfar Global
Popular music streaming services in Ukraine as of December 2022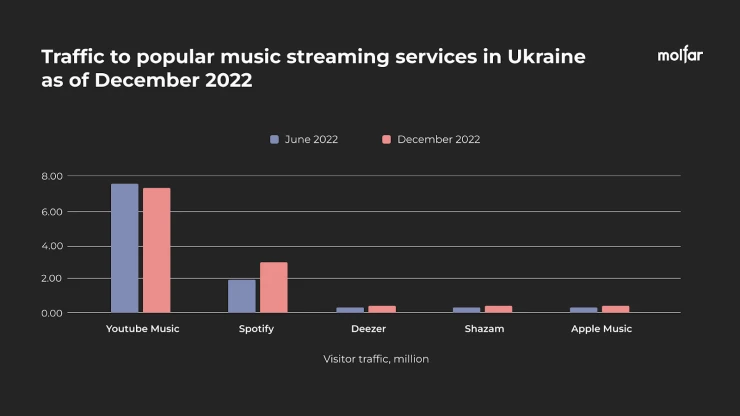 The number of monthly users decreased only on the most popular streaming service, YouTube Music (7.38m → 7.12m). On all other music streaming platforms, the number of monthly Ukrainian users increased:
Spotify 1.96m → 2.91m;
Deezer 0.38m → 0.43m;
Shazam 0.35m → 0.39m.
Apple Music 0.30m → 0.42m.
The total number of Ukrainian users on all five platforms also increased: 10.38m in June versus 11.27m in December.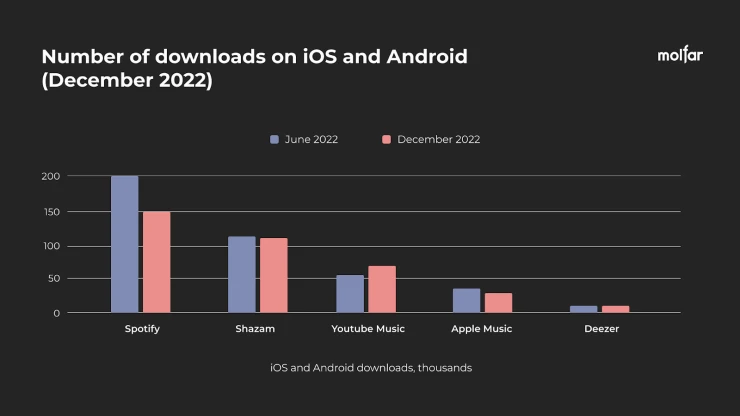 In contrast, the situation with downloads is quite the opposite: the number of app downloads among Ukrainian users increased only for YouTube Music (52.2m → 63.6m). The download numbers for other platforms decreased:
Spotify 192.6m → 144.0m;
Deezer 10.0m → 7.4m;
Shazam 105.8m → 104.2m;
Apple Music 30.7m → 24.4m.
It should also be noted that the total number of downloads on all five platforms also decreased: 391.3m downloads in June versus 343.5m downloads in December.
Top charts of music streaming platforms in Ukraine
Below, we'd like to take a look at the top 100 songs on each music streaming service in the Ukraine location. We divided all the artists into five categories:
Russians (ru);
Belarusians (by)
Ukrainian singers and bands who lived and worked in russia at the time of the invasion (UA*);
Ukrainians (UA)
Other.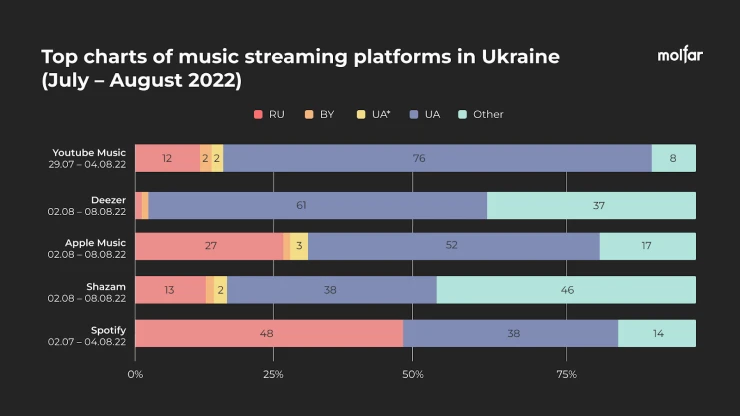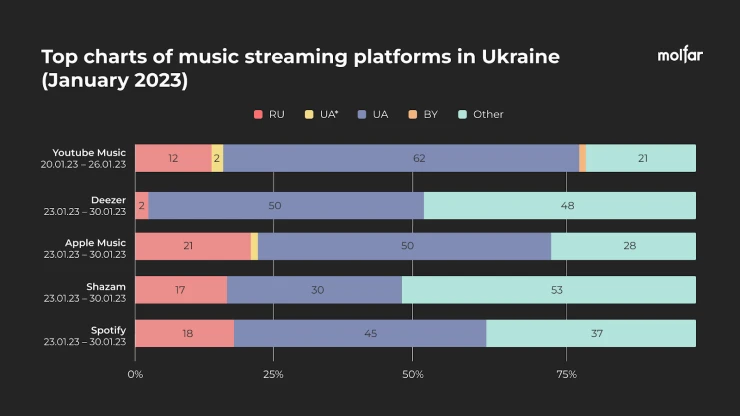 Important changes that have happened in the second half of the year since the full-scale invasion of Ukraine by Russian troops.
The number of Russian artists on all platforms either remained unchanged or decreased, except for Deezer – in the summer of 2022, there was only one Russian artist in the Top 100 tracks chart, in the winter of 2023, there were already two. At the same time, the smallest percentage of Russian songs, despite the reverse trend, was also on Deezer (2%).
The number of Ukrainian performers on all platforms has also decreased, and significantly so: by 14% on YouTube Music, 11% on Deezer, 8% on Shazam, and 2% on Apple Music. They were replaced by bands and artists from other countries (not Russia and Belarus) everywhere except Spotify – in the top 100 songs on this platform in the summer of 2022, there were only 38% Ukrainian artists, and in the winter of 2023 there were already 45%.
Changes in the second half of the year indicate an increase in Ukrainian identity – now there are significantly more Ukrainian artists on all streaming music platforms than Russian ones.
There are a number of other comments we would like to make separately.
By country of origin, more than 50% of the top 100 songs chart is dominated by Ukrainian songs on YouTube Music, Deezer, and Apple Music.
Most Russian artists are in the phonk and rap genres.
Belarusian artists and those Ukrainian artists who moved to Russia and lived and worked in the territory of the aggressor country at the time of the invasion were included in a separate group. The largest percentage of songs by such artists is on the YouTube Music platform.
In a nutshell: the struggle continues.
The language of song performance on music streaming platforms
The language of the songs in most cases coincides with the country of origin of the musicians or bands. Some of the songs are recorded in the phonk style or are DJ sets that do not use the performer's live voice, instead, the songs use recordings of other tracks, recordings of dialogues in different languages, etc. – such sets are marked on the chart as "No vocals"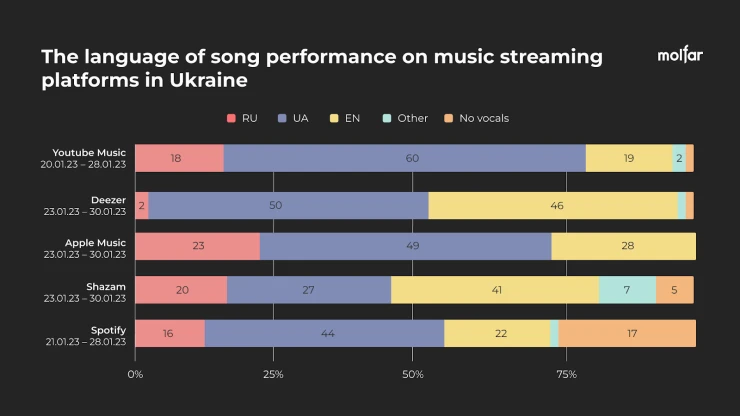 From 65 to 96% of the top 100 songs are in Ukrainian or English, with the highest percentage on the Deezer platform at 96%. It also has the smallest percentage of songs in Russian – 2%. The largest percentage of songs in Russian is listened to on Apple Music – 23% and Shazam – 20%.
Top 10 tracks on five musics streaming services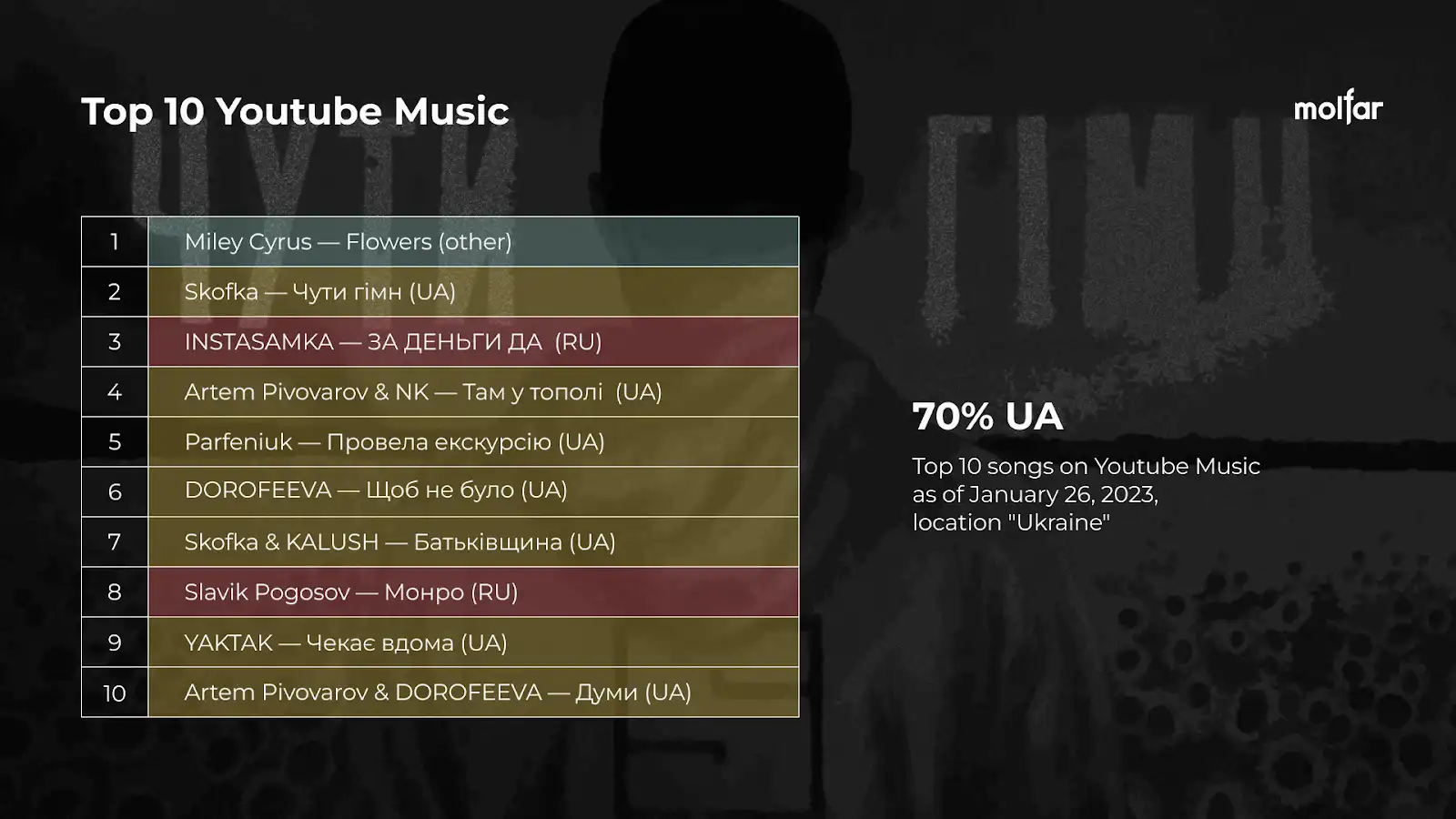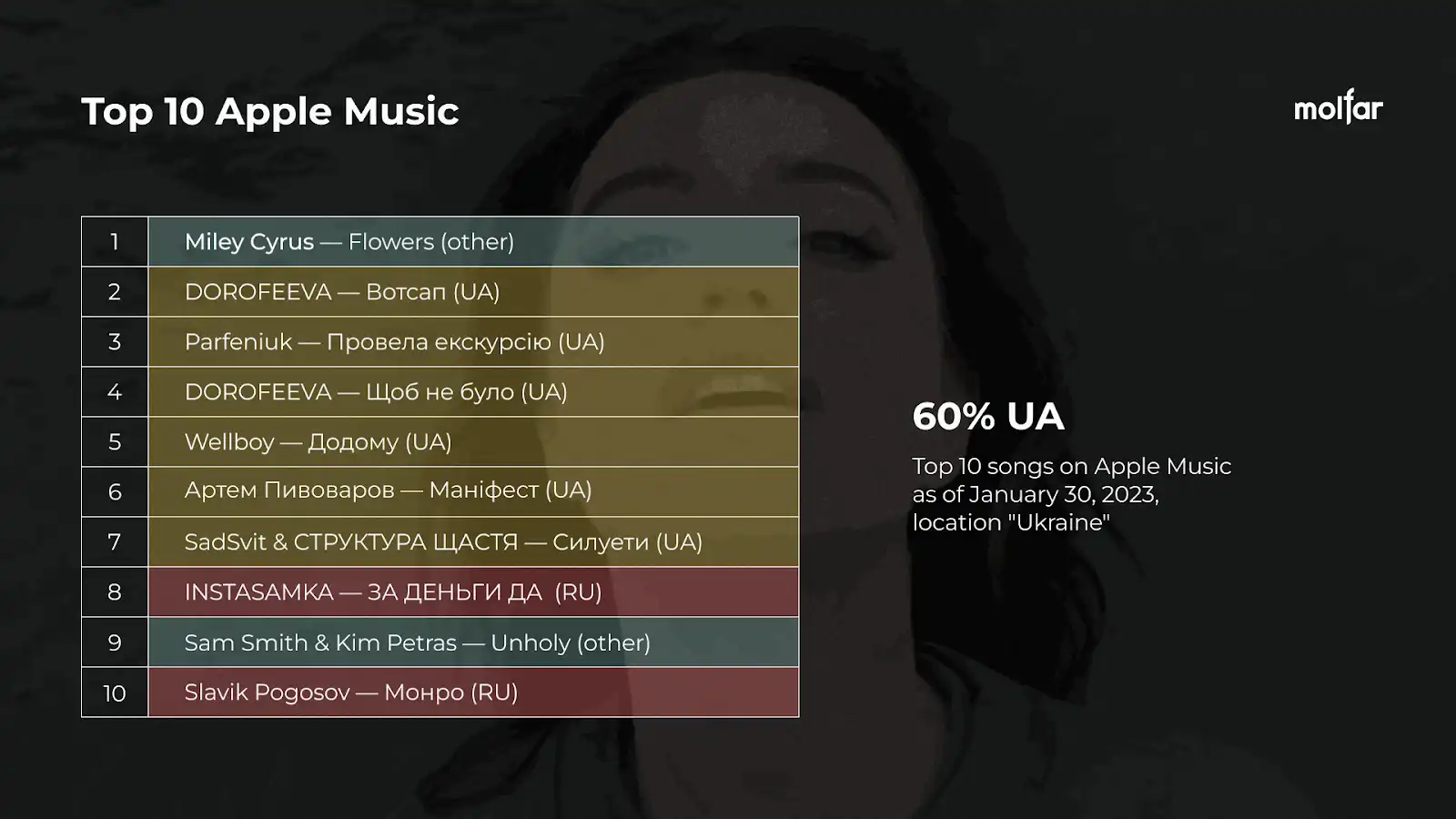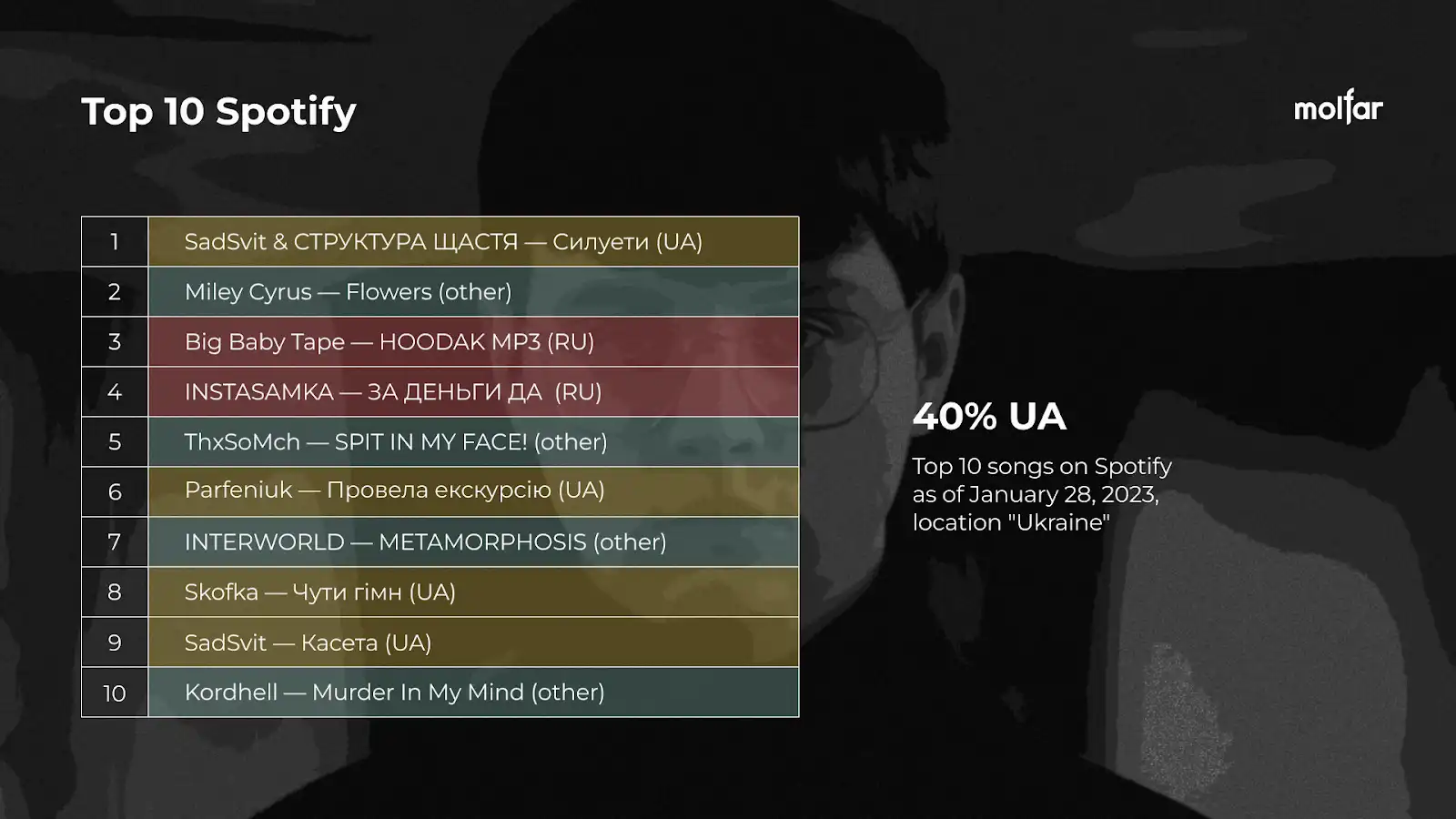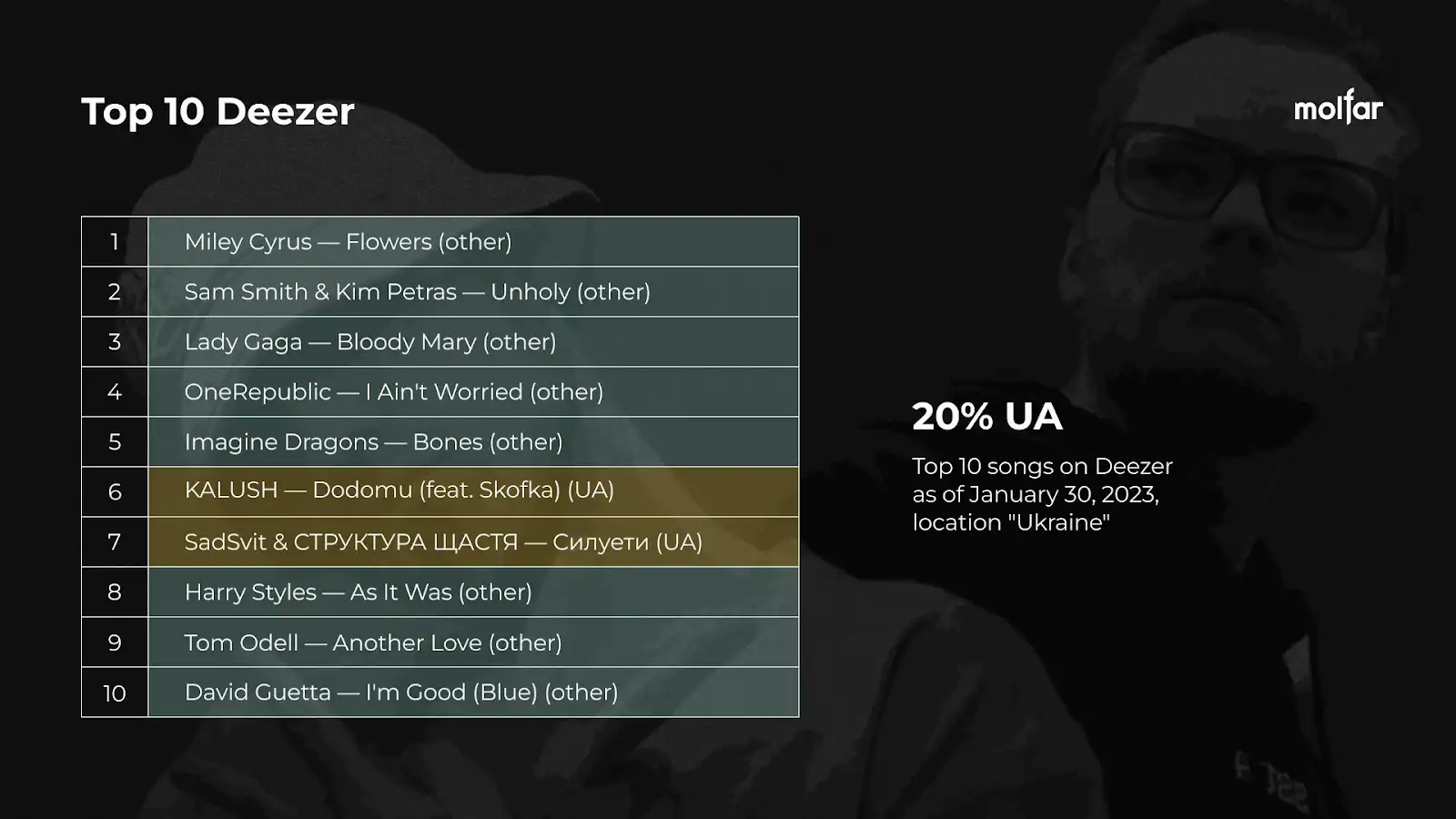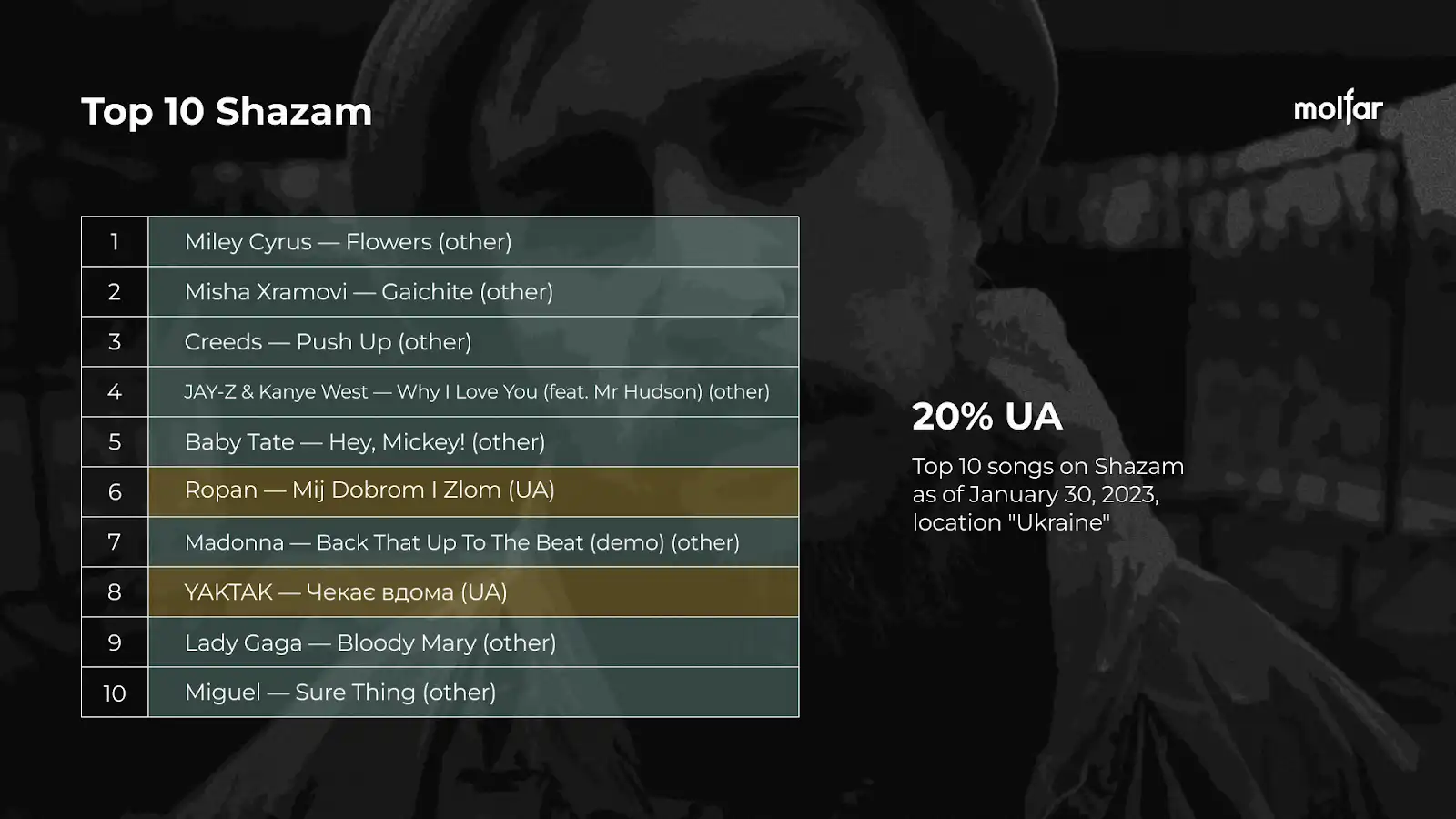 Music streaming platforms' app downloads in Ukraine
Just like in the next section, we give the exact values for each month for the five platforms researched so that trends can be tracked.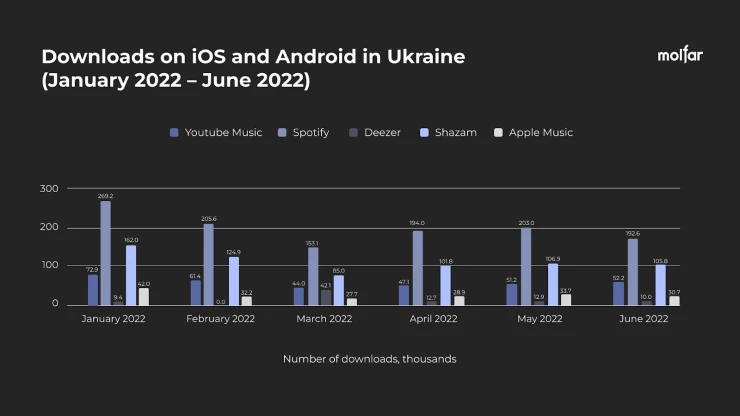 In June, the total number of downloads of YouTube Music, Spotify, Apple Music, Deezer, Shazam amounted to 391.3k, which is 8% less than in February – 424.1k.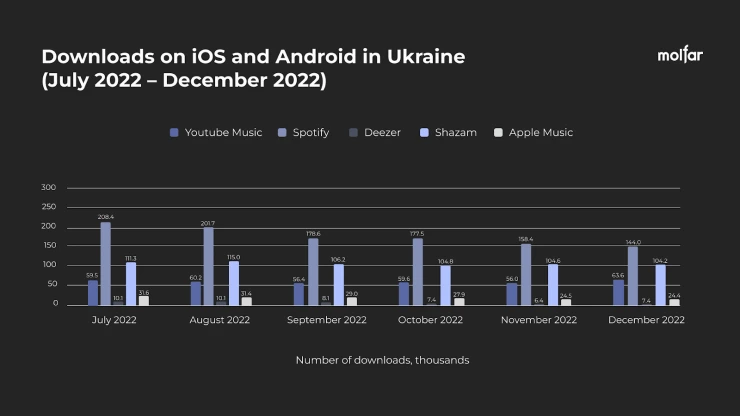 Traffic of streaming services in Ukraine
Once again, we're talking about traffic, but this time with exact values and no comparison – just month-to-month dynamics for each platform.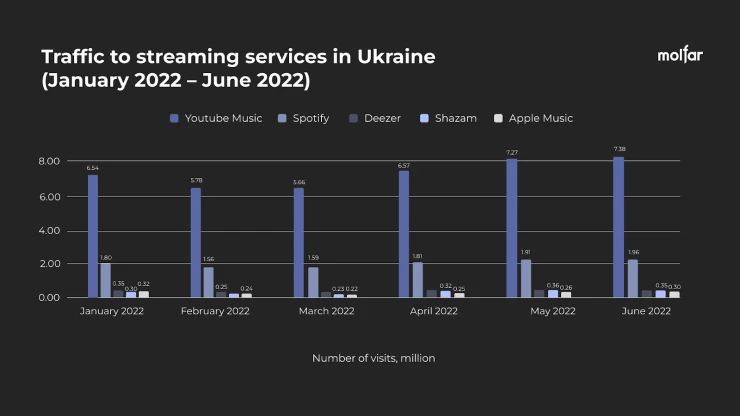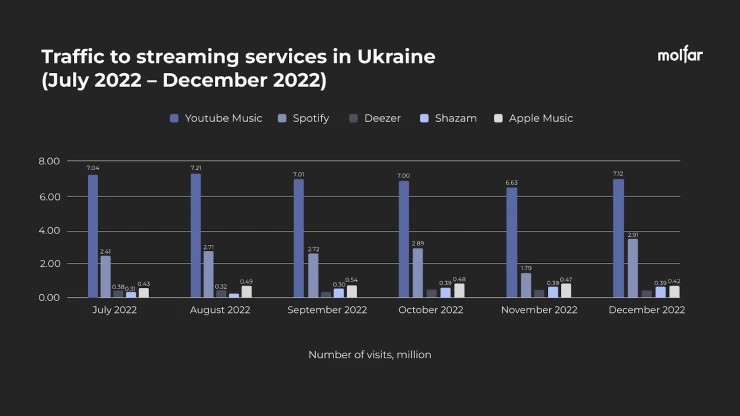 YouTube Music remains the most popular platform by the number of visits. The number of users of the platform increases and decreases with interesting dynamics: at first, it grows steadily, then collapses to a certain minimum, and then grows again. In general, the dynamics are positive.
This is the result of the research. With that, we wish you to develop your musical tastes! And for this, perhaps, you should just listen to more quality music. Music that fills you with feelings...
It is better to listen to music of performers from countries that do not send neo-Nazis to commit atrocities in the temporarily occupied territories, do not fire X-22 missiles at residential high-rise buildings, do not destroy critical infrastructure with Iranian drones, do not kidnap hundreds of thousands of Ukrainian children and do not hold hackathons to recruit cyberterrorists. Culture is a weapon ⚔️
👉 More data, dynamics, charts, figures for each month/period
✉️ To contact the team and receive a comment, please fill out the form below or send your request to business@molfar.com.